Donaldson has 6 RBI in Blue Jays' 15-3 rout of Angels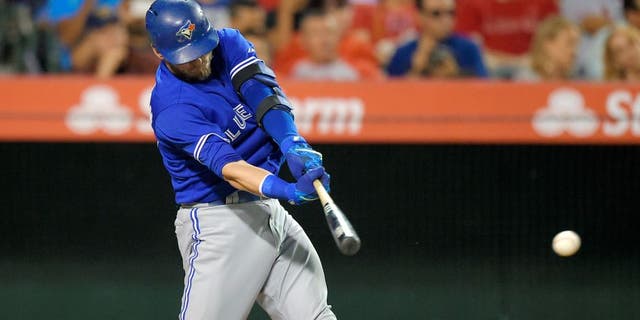 ANAHEIM, Calif. -- Josh Donaldson looked at the Toronto Blue Jays' lineup last spring and felt he could probably drive in 100 runs for his new team.
He never imagined he would do it by mid-August. And nobody anticipated the destruction that the Blue Jays are wreaking on AL pitching staffs as they chase a playoff berth.
Donaldson went 4 for 5 with a three-run homer, driving in a career-high six runs and propelling Toronto to its 18th victory in 22 games, 15-3 over the Los Angeles Angels on Saturday night.
Jose Bautista had a two-run triple during a seven-run fourth inning by the streaking Blue Jays, who pounded out 20 hits. They followed up their 9-2 win at the Big A on Friday with the highest-scoring performance in three years by the majors' most productive offense.
Amid ''M-V-P!'' chants from the visitors' fans in Mike Trout's home stadium, Donaldson drove in six runs in a three-inning span, giving him 100 RBI for the first time in his career.
''The last week or so, I feel like every time I come up, I have somebody in scoring position,'' said Donaldson, the first major leaguer to 100 RBI this season. ''It means a lot, especially the last couple of years when I've been right around (100 RBI) and haven't been able to get it.''
Donaldson sent his 34th homer deep into the bullpens beyond left field in the third inning before delivering a two-run single in the fourth and an RBI double in the fifth.
Bautista had three hits, Edwin Encarnacion extended his hitting streak to 18 games while driving in three runs, and Chris Colabello hit a late two-run homer in the Jays' highest-scoring game since July 22, 2012.
''Fifteen runs is extreme, but we've been doing it all year,'' Toronto manager John Gibbons said. ''Big outbursts. We've got a really good offense, top to bottom. It's a tough lineup to face.''
The Yankees' win over Cleveland kept them a half-game ahead of Toronto for the AL East lead, but every victory puts the Blue Jays ever closer to a secure playoff spot -- and the way they're hitting since their bold trade-deadline moves, October play seems inevitable.
Marco Estrada (11-7) got even more run support than David Price received Friday night, cruising to his fourth win in five starts while pitching five-hit ball into the sixth inning. He didn't even mind an extended stretch in the dugout while 12 Blue Jays batted in the fourth.
''You'll take that every time out,'' Estrada said. ''There are times when it gets a little long, and you try to stay loose.''
Kaleb Cowart homered for his first major-league hit for the Angels (63-60), who have lost nine of 13. They also fell into third place in the AL West and the wild-card standings behind Texas.
C.J. Cron homered and David Murphy had an RBI double in Los Angeles' third straight embarrassing defeat by a combined 32-7. The Angels gave up their season highs in runs and hits.
Andrew Heaney (5-2) had the worst start of a solid rookie season for the Angels, yielding eight runs and seven hits.
''For me, it's embarrassing, frustrating, irritating -- whatever word you want to use, that what I'm feeling right now,'' Heaney said. ''I don't like going out there and feeling out of control, and feeling like I didn't do anything to help the team, and end up taxing an already taxed bullpen.''
Heaney hadn't allowed more than two runs in an inning this season until Donaldson's two-out shot in the third. He left his shortest start of the season after walking three Jays in the fourth.
FIRST HIT
Cowart was 0 for 14 to start his career before homering in the fifth inning. The third baseman is the 12th player in Angels history to homer on his first hit, and the first since Terry Evans in 2007.
TROUT SLUMPING
Trout went 0 for 3 with two strikeouts, dropping the reigning AL MVP's August average to .176.
TRAINER'S ROOM
Blue Jays: 2B Devon Travis will join the team in Texas next week to have his injured shoulder examined.
Angels: 2B Johnny Giavotella stayed home due to an illness for the second straight night.
UP NEXT
Blue Jays: R.A. Dickey (7-10, 4.14 ERA) takes the mound.
Angels: Garrett Richards (12-9, 3.50 ERA) attempts to avoid the sweep.