Donald Cerrone plans to continue being a 'Cowboy,' violating uniform policy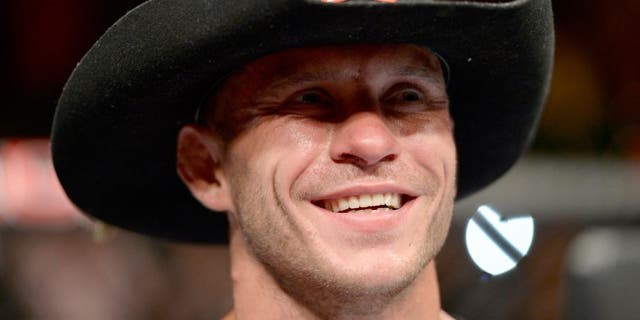 Donald "Cowboy" Cerrone may not be a big fan of the UFC's outfitting policy and payout structure with Reebok, especially after being fined for violating it in his last bout, but he insists that he's no victim of it.
"I need to go on record and say I'm not the victim," Cerrone recently told ESPN.
Cerrone last challenged for the lightweight title in December, losing to Rafael Dos Anjos. Afterwards, he was fined by the UFC for wearing an unauthorized patch on his Reebok shorts. The amount that he was fined may have surprised him, but the fighter says he expected to be penalized.
"I was fully aware I would be fined before the last fight," he continued.
"I knew the circumstances going in, I just didn't know how much I was getting fined. Dana and I talked and came to some grounds that we're going to stick to."
Despite that conversation with the UFC's president, Cerrone said that he may continue to violate the promotion's outfitting policy when he fights this Sunday on the FS1 Fight Night main event against welterweight Alex Oliveira.
"There's a pretty good chance I will [wear the offending patch on Sunday], yeah," he said.
Cerrone has said in the past that his manager was already warned by the UFC that another uniform-policy violation could mean him being released by the UFC. Time will tell if Cerrone does indeed willfully violate the sponsor deal, again, and whether the UFC will stick to their guns if he does and punish him more harshly than the last time.
If Cerrone continues to lose money due to uniform-policy violations, perhaps he intends to make up the difference with his trademark-fighting frequency. Cerrone is back, with virtually no rest time after being TKO'd by Dos Anjos and fighting at a higher weight.
The contender has proven to be an iron man in recent years, fighting more than just about any other high-level MMA fighter. He intends to continue to take as many fights as is possible, at as many weight classes as he can get to.
"[Fighting at welterweight] makes camp a little better," he explained.
"I don't have to pick and choose what I eat. I don't care though, I'll fight at 155. Either one. I'll go to 185 pounds, who cares? Just give me fights."