Dominick Cruz Defends UFC Title; Breaks Hand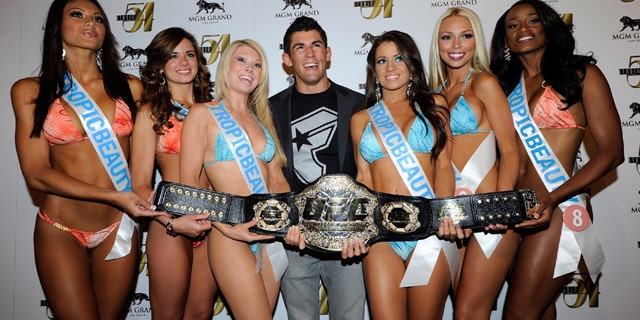 UFC bantamweight champion Dominick Cruz said last week that he wanted to showcase what the 135 lb. division was all about, which was "non-stop action."
In the end he and Demetrious "Mighty Mouse" Johnson did just that at the Verizon Center in Washington, D.C.
The fighters went five rounds Saturday night, which included a lot of punching, knee strikes, submission attempts, slams and even a suplex.
Johnson set the pace early with lighting fast moves and quick kicks and punches, however it wasn't enough as "The Dominator" showcased his wrestling and controlled the majority of the bout with it.
(VIDEO BELOW: Cruz Speaks to Fox News Latino After the Fight)
Cruz was able to throw some devastating kicks and at one point slammed Johnson on his back.
For all the control Cruz had throughout the fight, he did look little tired in the later rounds and Johnson displayed his unbelievable cardio as he kept coming back for more and pressed Cruz in the 5th and final round.
In the end Cruz followed his game plan and proved why he is at the top at 135 pounds, winning unanimously by decision.
"Tonight I proved why I'm the best in the world in my weight class,"said Cruz. "I'm willing to take on anyone the UFC puts in front of me and continue to show why I am the best."
His opponent also echoed that statement and addressed his future in the division.
"Dominick showed why he was the champ tonight," said Johnson. "I'm going to take this experience and come back a better fighter."
After the fight, Cruz told Fox News Latino that he had broken his hand and that he would take some time to heal before thinking about his next battle.
"I got to look at…see how these next fights go. See how my hand heals up… Get it fixed, it's broken," said Cruz. "I just want whoever is next in line, I just want to keep winning."
Many expect his next opponent to be the winner of the upcoming Urijah Faber vs. Brian Bowles match-up. Cruz has defeated both of those men in the past.
Cruz seems comfortable with who he is as a fighter and also commented on whether or not he was respected enough by fans and analysts.
"That's not something I can worry about," said Cruz. "All I can do is keep fighting, keep winning, keep putting on good shows and hope that people can learn to love me."
Victor Garcia is a freelance reporter for Fox News Latino.
Follow us on twitter.com/foxnewslatino
Like us at facebook.com/foxnewslatino