Dombrowski hesitant to say Bogaerts and Betts are untouchable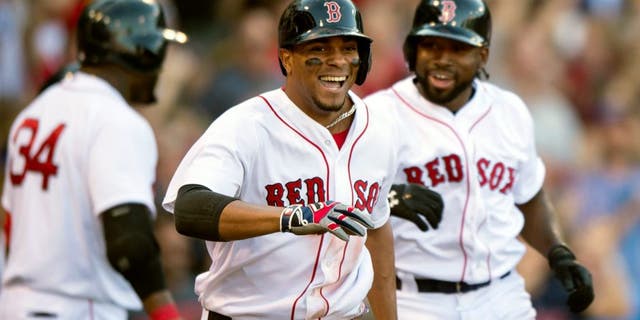 Xander Bogaerts and Mookie Betts are as close to untouchable as you can get. Michael Ivins Boston Red Sox/Getty Images
In Mookie Betts and Xander Bogaerts, the Boston Red Sox have two controllable superstars in the making.
It doesn't matter how many crazy trades you think of, it's highly, highly unlikely for them to be traded, according to Dave Dombrowski. But they aren't untouchable.
"I have always tried not to say players are untouchable," Dombrowski said in a radio interview with WEEi via MassLive. "The reason I have done that is because you never can tell when somebody makes you an offer you just can't believe. If you have Miguel Cabrera, somebody may offer you two Miguel Cabreras. Probably not going to happen, probably never will happen, but unless you listen, you don't know."
Bogaerts had a breakout season with the Sox, leading the team with a .320 average. Betts, a former infielder, played Gold Glove-caliber defense while hitting .291 with 18 homers.
Despite Dombrowski not using the U-word, he'd be very surprised if they weren't core players of the 2016 team.
"I do think when you talk about talented young players, Mookie and Xanders are two you think are going to be backbones of the organization for years to come. So that's how you approach it, and then you see what's taken place. I would be very surprised if they're not strong parts of our lineup next year."