Dolphins WR duo is No. 2 in the NFL in this category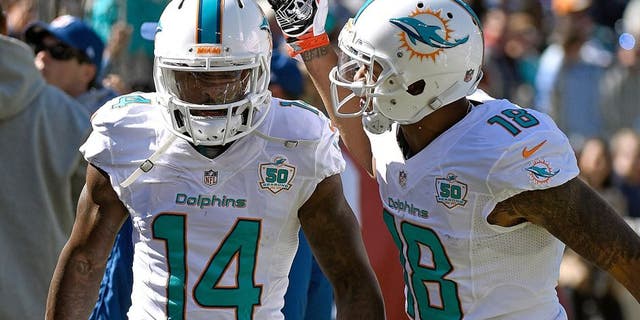 The Dolphins' wide receiver duo has quietly had an outstanding season. Frederick Breedon Getty Images
Entering the season, the Miami Dolphins were expected to have one of the top wide receiver groups in the league, led by Jarvis Landry. DeVante Parker, Greg Jennings, and Rishard Matthews were also expected to play big roles, but two of them have been relatively ineffective this season.
Matthews is the one who's joined Landry as a top target for Ryan Tannehill, and it's showed. Landry and Matthews have quietly combined to catch 102 passes this season -- tied for second in the league, only behind Demaryius Thomas and Emmanuel Sanders (114).
Landry has caught 60 passes while Matthews has 42 receptions with both players being extremely consistent throughout the season. They've provided a much-needed spark for the offense, especially with Parker and Jennings underperforming greatly.
The Dolphins are one of just six teams in the NFL with two players having caught at least 42 passes each. Landry, himself, is on pace for 102 catches this season, which would shatter the franchise record of 90 set by O.J. McDuffie in 1998.