Dolphins' Suh: Goal is always to put OL in a tough position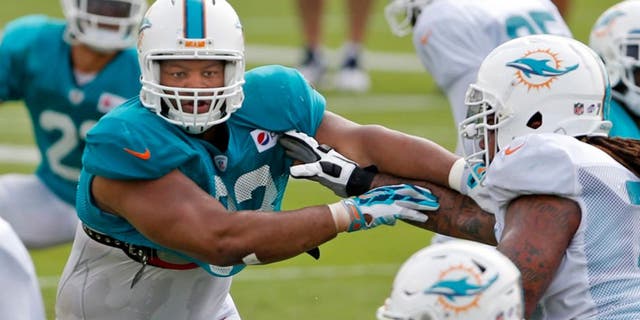 Ndamukong Suh is one of the most disruptive players in the NFL and is constantly wreaking havoc up front. Even when he doesn't fill stat sheets with sacks and tackles, he's impacting the game in a big way. And that's why he was made the highest-paid defensive player in NFL history by the Miami Dolphins this offseason.
For Suh, it all begins with putting offensive linemen in tough spots.
"My goal is always to put an offensive lineman in a tough position," Suh said via James Walker of ESPN. "So whether that's having them overset or underset, whatever they may particularly call it, I want to always have an offensive linemen in a bad position and you do that by getting off on the ball."
Lining up across from Suh is never something a center or guard wants to do, given his history of dominating the line of scrimmage. More often than not, Suh is able to drive the center backwards and put him on his heels -- which is exactly what he tries to do on each play.
"That's most important in my aspects of the game is to get off the ball, have them on their heels rather than on their toes, and ready to strike and being in a great position," Suh said.
Suh has (unsurprisingly) dominated opponents in training camp and in the preseason and is poised for another solid year this season. His presence will free up pass rushers like Cameron Wake and Olivier Vernon on the outside, which will give quarterbacks nightmares.
(h/t ESPN)