Dolphins sign RB Jonas Gray to practice squad following release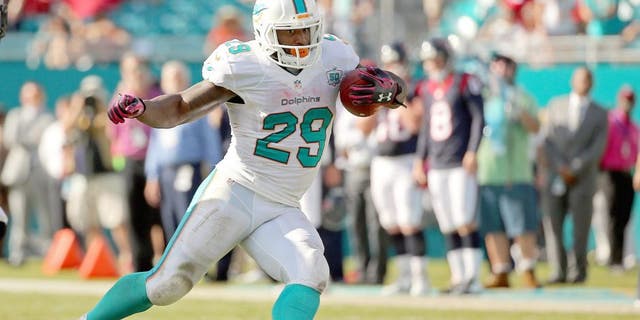 The Dolphins brought back Jonas Gray just days after releasing him. Mike Ehrmann Getty Images
Following rookie running back Jay Ajayi's strong performance on Sunday, the Miami Dolphins decided to cut ties with Jonas Gray. Carrying four running backs on the active roster clearly wasn't something the Dolphins wanted to do, making Gray the odd man out.
On Wednesday, Miami brought Gray back, signing him to the practice squad after he cleared waivers, according to Mike Garafolo. There was speculation that the Patriots could reunite with Gray due to Dion Lewis' injury, but New England didn't make it happen.
The Dolphins currently have three running backs on the 53-man roster, with those being Lamar Miller, Damien Williams, and Ajayi. Though Gray is out of the equation unless an injury pops up, he gets the chance to stay with the team he's been with since the beginning of the season.
Gray had rushed for 122 yards for the Dolphins this season, while also adding 72 yards on six catches.