Dolphins RB Williams takes pride in blocking, won't let anyone near QB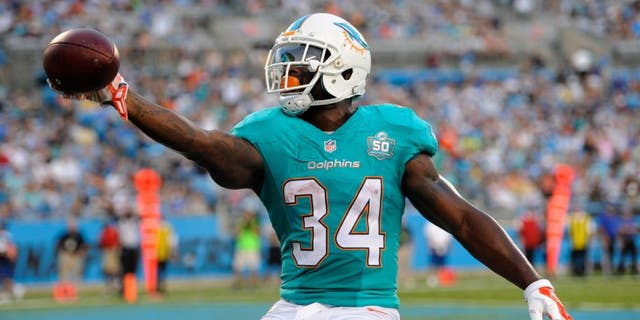 An underrated part of playing running back is pass protection. It's a key aspect of being a successful third-down back as keeping your quarterback upright is a top priority.
For Miami Dolphins running back Damien Williams, pass protection is equally as important as running and catching the ball out of the backfield.
"Our coach, he's real strong on protections," Williams said on the Joe Rose Show via CBS Miami. "He doesn't care how good we can run or catch as long as we protect Tannehill so you know I wasn't gonna let anybody come close to him."
Williams has been impressive this preseason and in training camp, making a strong case to be Lamar Miller's backup. He's proven to have the ability to catch the ball out of the backfield, as well as being a capable pass blocker.
"I pride myself not only on running or catching -- I pride myself on blocking," he said. "I feel like that's a man-to-man thing so I feel like I can't be beat."
Williams already has a strong hold on the No. 2 running back spot. If he's able to show the coaching staff that he's an all-around solid back and can pass protect, he should find himself on the field more often than last season.
(h/t CBS Miami)