Dolphins QB Josh Freeman refuses to let NFL career end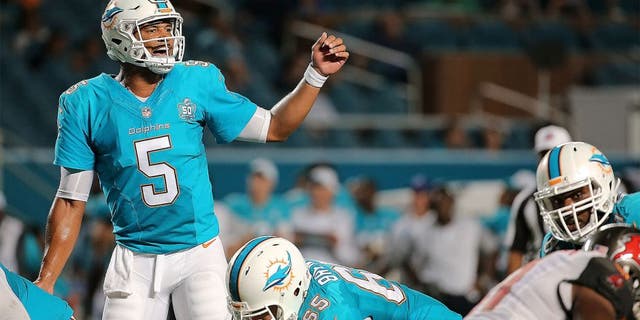 Miami Dolphins quarterback and former first-rounder Josh Freeman was given one last chance to earn a spot on the roster Thursday night. Unfortunately, he didn't capitalize on the opportunity and his NFL career may be coming to an end.
Freeman completed just 59 percent of his passes with two picks and no touchdowns in Thursday night's preseason finale. In order for Freeman to make the roster, he likely needed to have a great, turnover-free game against the Buccaneers. That clearly wasn't the case.
Even after Thursday's poor outing, Freeman refuses to let his NFL career end.
"It was a shame to see it end the way it did," Freeman said, via Rick Stroud of the Tampa Bay Times. "But I thought all the guys at the end were really battling. I want to keep playing, no question. I love playing football. At the end of the day, I'm going to give it all I can until I exhaust every option."
Freeman threw a total of four interceptions on just 48 pass attempts this preseason, while completing just 23-of-48 of his throws. At this point, it seems likely that the Dolphins will keep Matt Moore over Freeman, with the chances of the team keeping three quarterbacks very low.
"It's definitely been a very humbling experience in a lot of ways," Freeman said. "A learning experience. Talking with older guys and guys out of the league [about] what they miss most, it's the camaraderie. It's being with the guys in the locker room."
(h/t Tampa Bay Times)