Dolphins' Olivier Vernon sends 'get well' wishes to Marcus Mariota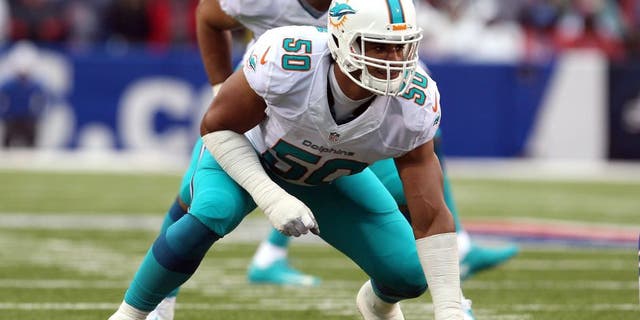 NEWYou can now listen to Fox News articles!
Olivier Vernon hopes Marcus Mariota gets well soon after a low hit on Sunday. Timothy T. Ludwig USA TODAY Sport
The Miami Dolphins came out firing in Dan Campbell's debut as interim head coach against the Tennessee Titans. They ran the ball with a great deal of success, while they also got after the quarterback, sacking Marcus Mariota five times.
Along with those sacks, Dolphins defensive end Olivier Vernon has taken some heat for a controversial low hit on Mariota that the Titans weren't thrilled with. Mariota didn't miss any time, but he was visibly in pain as it impacted his play.
Vernon, however, insists that he didn't intend to hurt Mariota, and that he's not a dirty player. He sent get wishes to Mariota via Twitter on Sunday.
Vernon also commented on the play after the game, echoing the same thoughts.
"I know one thing: It wasn't intentional," Vernon said via James Walker of ESPN. "I've never been a dirty player in my whole career. Nobody tries to get personal fouls. I know one thing, they are expensive."
Unfortunately for Vernon, intent isn't part of the equation when it comes to fines. The hit will likely be reviewed by the NFL, with a fine possibly coming Vernon's way. At the very least, it was a kind gesture by Vernon.
MORE NEWS: Want stories delivered to you? Sign up for our NFL newsletters.