Dolphins' Incognito breaks silence on Martin in first interview since bullying allegations surfaced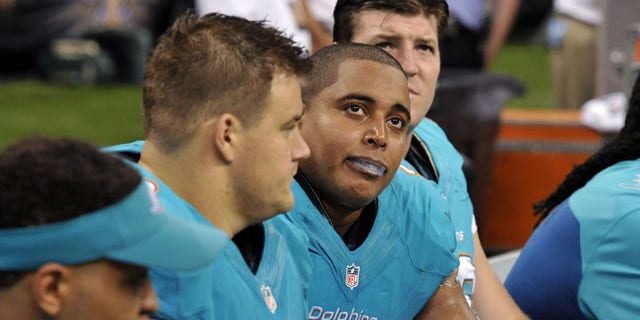 Suspended Miami Dolphins guard Richie Incognito claims he's not a racist and insists his relationship with teammate Jonathan Martin is not as tumultuous as it may seem to those outside the world of professional football.
Incognito, 30, responded over the weekend to the ongoing controversy that has prompted an NFL investigation during an extensive interview with Fox Sports that was taped Saturday at the Beverly Wilshire Hotel and aired Sunday, making his first extended interview since the story broke last month. Incognito said he regretted using the racist, profane language he used in more than 1,100 text messages between the two players over the past year, but said it stemmed from a culture of locker room "brotherhood" rather than bullying.
"I'm not a racist," Incognito told Fox Sports' Jay Glazer. "And to judge me by that one word is wrong. In no way, shape or form is it ever acceptable for me to use that word, even if it's friend to friend on a voicemail. I regret that."
Incognito said it was Martin who sent him a threatening text message as an apparent joke just a week before their relationship became the talk of the league.
"A week before this went down, Jonathan Martin texted me on my phone — 'I will murder your whole ... family,'" Incognito said, quoting Martin as using a profanity. "Now, did I think Jonathan Martin was going to murder my family? Not one bit. ... I knew it was coming from a brother. I knew it was coming from a friend. I knew it was coming from a teammate. That just puts in context how we communicate with one another."
Three days after Martin left the team last month to undergo counseling for emotional issues, Incognito said he received two text messages from his former teammate.
"Wassup man? The world's gone crazy lol. I'm good tho congrats on the win," Martin said in a text verified by Fox Sports. "Yeah I'm good man. It's insane bro but just know I don't blame you guys at all. It's just the culture around football and the locker room got to me a little."
TIME FOR MARTIN TO SPEAK: Martin to make his voice heard soon
In response to the interview, Martin's attorney tweeted the message Incognito quoted, accompanied by two photos of a laughing woman holding a dog. Observers have suggested it appears to be a viral image, not originally directed at anyone in particular.
"JMart's text 2 Richie Incognito. U decide....." attorney David Cornwell tweeted.
Martin, meanwhile, hasn't publicly spoken, but is scheduled to discuss the case late next week with a special investigator hired by the league.
"This isn't an issue about bullying," Incognito told Glazer. "This is an issue of my and Jon's relationship. You can ask anyone in the Miami Dolphins' locker room who had Jon Martin's back the absolute most, and they'll undoubtedly tell you me."
Incognito continued: "All this stuff coming out, it speaks to the culture of our locker room, it speaks to the culture of our closeness, it speaks to the culture of our brotherhood."
Incognito, who is white, has acknowledged leaving a voicemail for Martin in April in which he used a racial slur and threatened to kill his biracial teammate.
"It sounds terrible," Incognito said of his actions. "It sounds, when it's on the screen, it sounds like I'm a racist pig, it sounds like I'm a meathead. It sounds a lot of things that it's not. And I want to clear the air just by saying I'm a good person."
The Associated Press contributed to this report.