Dolphins G Thomas needs strong showing to hold off rookie at guard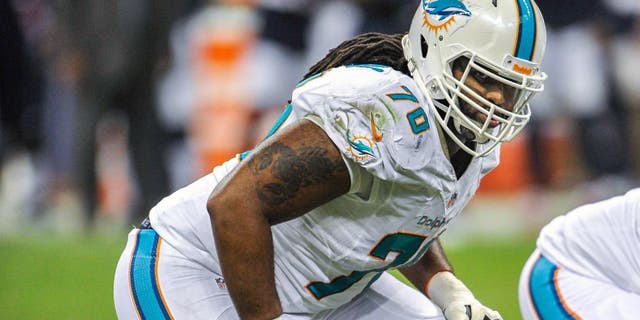 The Miami Dolphins have several questions across the offensive line, beginning with both guard spots. Dallas Thomas and Billy Turner are expected to be the starters as of now, but things can change.
Left tackle Branden Albert is recovering from a torn ACL and his status isn't 100-percent clear for the season opener, which means a guard could be asked to slide to tackle. Thomas is one of those players, but he's hoping to master one position for the duration of the season.
"I'm a guard, but the season is long," Thomas said via ESPN. "So you never know what can happen. You always want to make sure you're prepared that if something does happen, I can get out there and hold it down."
If Thomas wants to hold onto the starting right guard spot, he'll need to hold off rookie Jamil Douglas. The battle between the two will be watched closely when the Dolphins open the preseason on Thursday.
"It's been close," head coach Joe Philbin said. "I thought Jamil, for a rookie, the other night kind of [held] his own and out there. I thought he handled himself pretty well out there, I really did."
Thomas feels the pressure being put on by Douglas, but he's confident in his ability to win the job.
"All games are important," Thomas said on Tuesday. "I just want to come out and work on my craft and see if everything I've been doing in the offseason has paid off."
While Thomas and Douglas will battle it out all offseason for the starting right guard spot, the potential signing of free agent Evan Mathis can change that in the blink of an eye. He would immediately step in at one of the guard spots, unseating either Thomas or Turner.
(h/t ESPN)