Dolphins decode secret to Gronk: 'Put the whole secondary on him'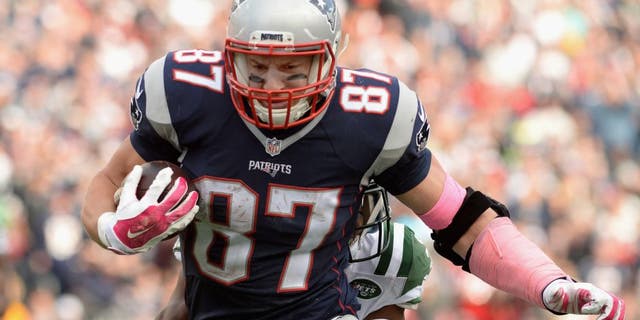 Dan Campbell has drawn up the perfect plan for stopping Rob Gronkowski. Darren McCollester Getty Images
For the second consecutive week, the Miami Dolphins will be tasked with stopping one of the most dominant players in the league. Last week, the Dolphins were posed with slowing down J.J. Watt. This week, their challenge comes on the other side of the ball in Rob Gronkowski.
Prior to the Dolphins' game against the Houston Texans, head coach Dan Campbell joked that he was going to put the entire offensive line on Watt. Unsurprisingly, he's taking a similar approach this week with Gronkowski.
Gronkowski had a phenomenal game against the New York Jets last week after a few pedestrian outings, catching 11 passes for 108 yards and a touchdown. What's most impressive about that stat line is that it came against one of the best defenses in the league. It's frightening to think what he'll do to the Dolphins' defense.
Fortunately, Campbell is prepared to slow down Gronk, just as he was with Watt.
"You can't just -- and that goes for that offense and Tom Brady -- you can't just give them the same look the whole time," Campbell said. "Now, you got to do what you do best. But you can't just sit there where he knows every time exactly what you're in. But we have some guys on this team that can plan man to man pretty good. We'll have other answers schematically as well."
To make matters worse, Campbell and the Dolphins need to game plan for Brady and Gronkowski on a short week as their meeting comes on Thursday night. It won't be easy, but stopping Gronkowski is a must if the Dolphins hope to hand the Patriots their first loss of the season.
MORE NEWS: Want stories delivered to you? Sign up for our NFL newsletters.