Dolphins DBs Reshad Jones, Brent Grimes are heading to Pro Bowl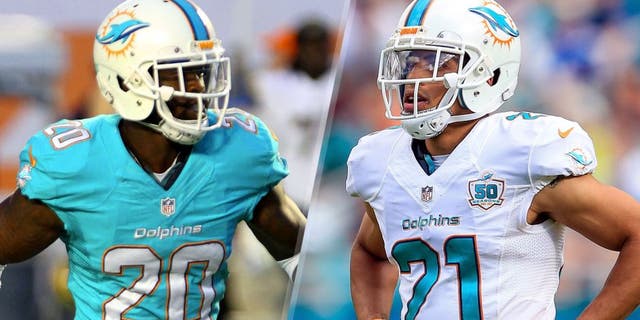 It was one month ago that the Miami Dolphins had one player selected to the Pro Bowl: center Mike Pouncey. Now, the team has four players headed to Hawaii, and Pouncey isn't one of them.
Since bowing out due to injury, Pouncey's teammates have filled in to represent the Dolphins well. Last week, wide receiver Jarvis Landry and left tackle Branden Albert were added. Now, it's a pair of defensive backs heading to Hawaii with them. The team announced that safety Reshad Jones and cornerback Brent Grimes have been added to the Pro Bowl as injury replacements.
Jones undoubtedly deserved to make it during the first round of voting after posting one of the best seasons from a defensive back this season. He finished the year with 135 tackles -- fourth-most in the league -- two sacks and five interceptions, two of which were returned for touchdowns. It's his first career Pro Bowl selection, with many more likely to come in the future.
Unlike Jones, it'll be Grimes' fourth time as a Pro Bowler. He struggled early in the season but finished the year strong. He posted 49 tackles and four interceptions with 14 passes defensed.
The Dolphins will now be well represented in Hawaii this coming Sunday with four players on the field.