Dolphins CB Chris Culliver 'anxious' to make his return to field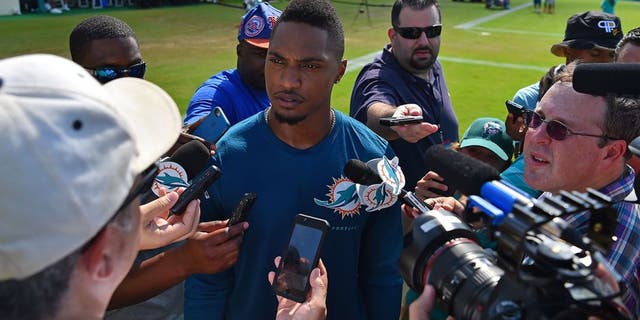 DAVIE, Fla. (AP) -- It has been nearly a year since Chris Culliver played in a game, and the countdown to his 2016 debut is almost over.
So he's a little anxious, right?
"I like that one," Culliver said Wednesday, approving the choice of words. "That was good. I'm definitely anxious, you know what I'm saying? Ready to pop out of my skin."
Activated this week by the Miami Dolphins, Culliver said he was told he'll play Sunday at San Diego. The veteran cornerback has been sidelined since tearing ACL and MCL ligaments in his right knee last Thanksgiving Day while with the Redskins.
"It's going to be a lot of emotion and a lot of good vibes out there Sunday," Culliver said.
Defensive coordinator Vance Joseph was noncommittal regarding Culliver's timetable, but said the Dolphins will welcome his help.
Xavien Howard started as a rookie until he suffered a knee injury that required minor surgery. He's expected to be out at least one more week. Converted receiver Tony Lippett replaced Howard with mixed results, and the other starter is veteran Byron Maxwell, who has played better since a brief benching.
"Obviously we need more capable corners," Joseph said. "If Chris is ready, he's going to play. We've only got really four healthy guys; you need probably five or six to play a season. Having a corner like Culliver come up who has played at a high level helps you. It allows us to have more flexibility."
Culliver said he knows he won't play every snap, but he's gratified to provide a reinforcement.
"You've got guys playing about 70 plays or whatever; you cut that to 50, 40 plays," Culliver said. "Those guys get fresh legs. You've got guys rotating in. It brings a good dynamic."
Dolphins special teams coordinator Darren Rizzi said Culliver can also help on punt and kickoff coverage.
"He did a lot of stuff in college and is a very talented guy," Rizzi said. "So we've got him trained to help in those roles."
Culliver had been on the physically unable to perform list since August, shortly after he signed a $2.5 million, one-year contract. The Dolphins were required to activate him this week if he was to play at all this season.
He has 26 career starts and seven interceptions. One of his picks came two years ago against the Chargers' Philip Rivers, who faces Miami on Sunday.
"I accomplished a lot; still want to accomplish more," Culliver said.