Does being No. 1 bring added pressure to Clemson? Swinney gives us the answer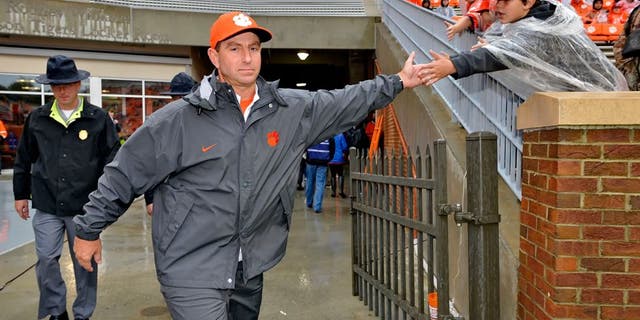 Clemson coach Dabo Swinney. Richard Shiro FOX Sports
Following Clemson's 37-27 win over Syracuse on Saturday, the Tigers became the uniamous No. 1 team in the country as they earned the top spot in the AP, Coaches and College Football Playoff polls.
On Tuesday, Clemson coach Dabo Swinney was asked if the hat trick added any pressure to his team, to which he replied, "There is absolutely no pressure being the No. 1 team in the country. This is fun."
The Tigers (10-0, 7-0) will look to keep the good times going when they host Wake Forest (3-7, 1-5) this Saturday at 3:30 p.m.