Dodgers topple Giants in 14 on Gonzalez's walk-off single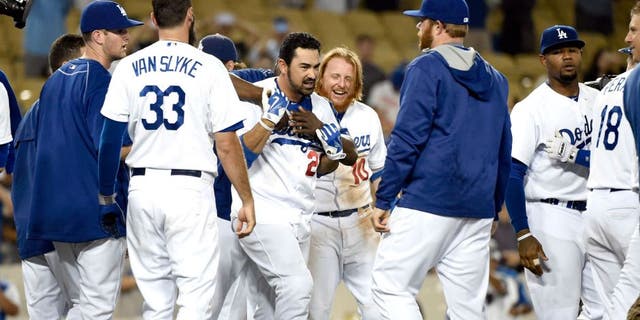 NEWYou can now listen to Fox News articles!
LOS ANGELES -- Adrian Gonzalez singled in the winning run with the bases loaded in the 14th inning, lifting the Los Angeles Dodgers over the San Francisco Giants 5-4 early Tuesday in the opener of a crucial series between the NL West's top two teams.
The first-place Dodgers' lead increased to 4½ games over their second-place rivals after the longest game by innings for both teams this season.
Giants reliever Mike Broadway (0-1) started his first inning of relief by walking A.J. Ellis and then gave up consecutive singles to Jimmy Rollins and Chase Utley to load the bases. Giants reliever Yusmeiro Petit came on and Gonzalez hit his first pitch to deep left field, ending the 5-hour, 29-minute game that started in August and ended in September.
Chris Hatcher (2-5) pitched three innings for the win.
The Dodgers won for just the fourth time in 13 games against the Giants this season, a day after getting no-hit by Jake Arrieta of the Chicago Cubs, the second time it happened in 10 days.
Both teams wasted numerous scoring opportunities as the game stretched into the wee hours.
The Dodgers had runners on first and second in the 13th with two outs, but Hatcher flied out to foul territory in right field to keep the game tied.
The Dodgers sent ace Clayton Kershaw to the plate with two outs in the 11th when they had no position players left. He grounded out to end the inning. The Giants ran out of position players in the 14th.
The Giants had the go-ahead runs on second and third with one out in the 10th before Jim Johnson ended the threat by inducing two straight groundouts.
The Dodgers had a runner on third in the ninth but Sergio Romo retired three straight hitters to end the inning. They missed another chance in the eighth, getting runners on first and third with one out only to have Romo retire the last two batters.
Marlon Byrd of the Giants tied the game 4-all in the eighth with an RBI-double in the right-field corner off Juan Nicasio.
The Giants have lost six of their last nine as they try to catch the Dodgers with a month left in the regular season.
Gonzalez and Andre Ethier homered for the tying and go-ahead runs in the sixth inning, giving the Dodgers a 4-3 lead.
Gonzalez's two-run homer, his 25th, tied the game 2-all and scored Rollins, who had a leadoff single. With two outs, Ethier homered to chase starter Jake Peavy, who came in with a 6-0 record over his previous 10 starts at Dodger Stadium.
San Francisco extended its lead to 3-1 in the third on Brandon Belt's RBI-single before Byrd reached on an infield single to second base that scored two runs.
TRAINER'S ROOM
Giants: OF Angel Pagan (right patella tendinitis) was to be activated later Tuesday when rosters expand. ... INF Joe Panik (lower back inflammation) is in Los Angeles for the series and is set to begin a rehab assignment this week. ... RHP Tim Hudson (right shoulder strain) has been throwing bullpen sessions in preparation for his return from the DL. ... OF Hunter Pence (strained left oblique) is on schedule with his rehab and has been swinging the bat with no setbacks.
Dodgers: INF-OF Kike Hernandez went on the DL with a strained left hamstring, joining OF Yasiel Puig and INF Howie Kendrick, who are out with hamstring injuries. Hernandez got hurt trying to leg out an infield hit Sunday. He was hitting .308 with six home runs and 21 RBI. ... RHP Joel Peralta (right neck sprain) is expected to come off the DL on Tuesday.
UP NEXT
Giants: LHP Madison Bumgarner (16-6, 2.97 ERA) has eight career wins at Dodger Stadium, most by a Giants pitcher since Juan Marichal went 14-11 here during his career. Bumgarner is 2-0 with a 1.31 ERA in three starts against the Dodgers this season -- all against Clayton Kershaw.
Dodgers: RHP Zack Greinke (14-3, major league-leading 1.61 ERA) is 6-0 with a 2.28 ERA in eight career starts against the Giants while holding opposing hitters to a .231 batting average. He is 7-1 at home this season.