Dodgers' switch has Padres facing Kershaw Saturday night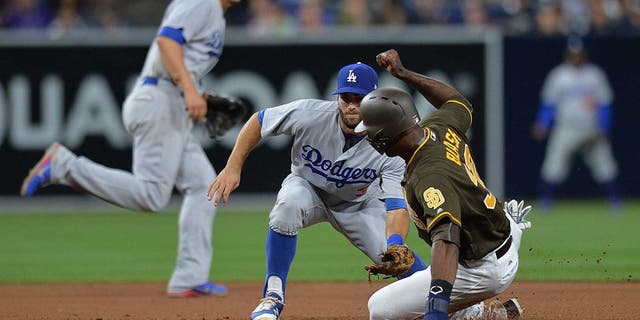 SAN DIEGO -- The Los Angeles Dodgers are pulling a switch for the second game of their weekend series with the San Diego Padres.
Clayton Kershaw and Brandon McCarthy have swapped days, with Kershaw facing San Diego on Saturday night as the Dodgers go their fourth straight win over the Padres.
McCarthy, who has won eight of nine lifetime decisions against the Padres, will cap the three-game series on Sunday.
The change of plans was necessitated by McCarthy suffering a weight room injury earlier in the week.
"He tweaked his left shoulder," Dodgers manager Dave Roberts said. "He is fine. It is more of just a matter of him getting that extra day and that was the reason why."
Kershaw (4-2, 2.61 ERA), the ultimate creature of habit when it comes to his routine between starts, got word of the move on Thursday. That gave him extra time to process it and he was all thumbs up, according to Roberts.
"He was totally on board," Roberts said. "He was totally open about it and he's looking forward to it."
The Padres maybe not so much, although they were going to have dig in at some point this weekend against the three-time Cy Young Award winner.
Kershaw is 15-6 with a 2.03 ERA versus the Padres in 30 career starts. He got win No. 15 on last month's opening day when he stifled the Padres in seven innings, surrendering a run and two hits.
Although Kershaw, a six-time All-Star, is coming off a sketchy outing. He took the loss on Monday when the San Francisco Giants ambushed him for four runs (three earned) and eight hits in six innings.
The Padres will counter with Clayton Richard, the resurgent southpaw who stymied the Dodgers in the season's opening week.
Richard (2-3, 4.29) was stellar against the Dodgers in his first start. He worked eight innings of scoreless ball, allowing one hit. The Dodgers usually have trouble with Richard. He's 7-4 with a 3.42 ERA against them.
The ground ball has become Richard's friend as he constantly strives to stay in the bottom half of the zone.
"It's his sink," Padres manager Andy Green said. "He has enough feel to understand when to get away from the sink and shoot that fastball up-and-in or mix in something different."
There's also his veteran know-how, which drives his preparation.
"He studies," Green said. "For the last three days, he has been in there looking at Dodger film and their hitters and seeing how they attacked him last time. He has an understanding that they will probably make some adjustments this time."
But time and again, Richard turns to the pitch that dives in the dirt and delivers rollers to his infielders. Against the Dodgers, especially considering their woes against left-handed starters, that's the approach to have.
"When you look at matchups in the division out of our guys, he's the guy you would love to have against the Dodgers," Green said, "That doesn't mean it favors us strongly. It just means he's a lefty sinker-baller and against them, that is more ideal than a righty sinker-slider guy."
The Dodgers have slid in their ace for the Saturday night showdown, making for a battle of Claytons.