Dodgers shut out slumping Cubs to take 2-1 NLCS lead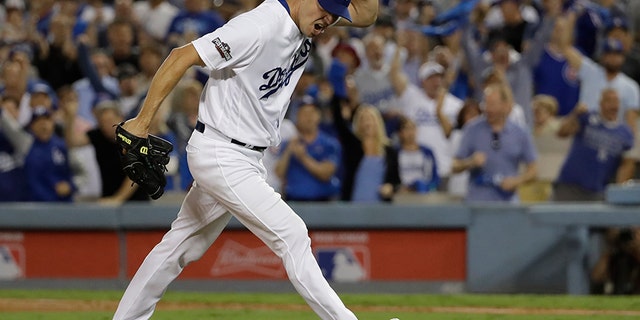 LOS ANGELES – Fourteen months removed from independent ball on Long Island, Rich Hill pitched the Los Angeles Dodgers into a 2-1 NL Championship Series lead.

Hill allowed two hits in six innings to beat Cy Young Award winner Jake Arrieta, Yasmani Grandal hit a two-run homer in the fourth inning and the Dodgers defeated the Chicago Cubs 6-0 Tuesday night.

After winning a big league high 103 games during the regular season and sparking belief they could win the World Series for the first time since 1908, the Cubs have been shut out in consecutive games for the first time this year, managing just six hits -- five of them singles.

Hill, who pitched for the Atlantic League's Long Island Ducks in August 2015, struck out six and walked two. Joe Blanton, Grant Dayton and Kenley Jansen finished, giving the Dodgers consecutive postseason shutouts for the first time.

Julio Urias starts Game 4 for the Dodgers on Wednesday and at 20 years, 68 days will become the youngest starting pitcher in postseason history. John Lackey starts for the Cubs.

Hill was acquired from Oakland along with Josh Reddick at the Aug. 1 trade deadline. The 36-year-old left-hander struggled with a blister on the middle finger of his pitching hand that landed him on the disabled list from mid-July to late August. The blister still bothered him in the final weeks of the regular season, and Dodgers manager Dave Roberts pulled him after seven perfect innings against Miami on Sept. 11.

Hill was strong from the start against one of his former teams, retiring the side to open the game and later eight in a row. He's given up one run in 23 innings over four home starts for the Dodgers, lowering his ERA to 0.39.

Rookie Corey Seager put the Dodgers ahead with an RBI single in the third, ending an 0-for-15 slide with runners in scoring position in postseason play.

Grandal was 0 for 5 with three strikeouts against Arrieta in his career before he launched a 3-2 pitch into the right-field pavilion in the fourth for a 3-0 lead. Grandal drove in Josh Reddick, who singled and stole second and third.

Justin Turner homered on the first pitch leading off the sixth to chase Arrieta, who dominated the Dodgers in his last previous two starts against them, including a no-hitter at Dodger Stadium in August 2015.