Dodgers might have to get creative with their rotation this season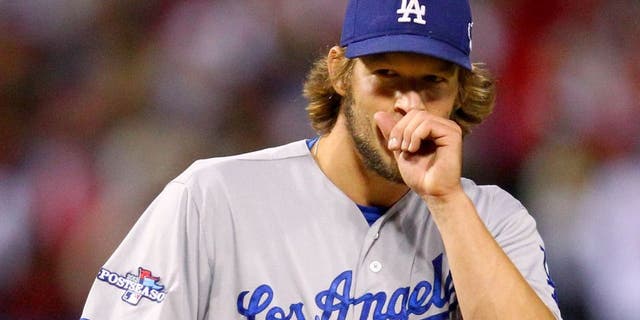 The depth of the Dodgers' rotation remains a question, even in certain quarters of the team's clubhouse. The club's front office, though, remains confident in its internal options, and one rival executive flatly dismissed any concerns Tuesday, saying, "They're going to win the division."
The path, though, might be unusual, particularly in year one A.G. (after Greinke).
Left-hander Brett Anderson already is out 3 to 5 months after undergoing back surgery. Three other starters -- lefty Hyun-Jin Ryu and righties Brandon McCarthy and Frankie Montas -- are in various states of disrepair. And a number of the team's healthy starters represent injury risks.
Barring further problems, the Dodgers will open the season with lefties Clayton Kershaw, Scott Kazmir and Alex Wood and righty Kenta Maeda as their top four starters, with one of three righties -- Mike Bolsinger, Brandon Beachy or Carlos Frias -- in the fifth spot.
The team also is not ruling out the possibility of promoting a top prospect such as lefty Julio Urias or righty Jose De Leon in the first half, if necessary. Workload would be a concern for such young pitchers, but the Dodgers' rationale is that Ryu, McCarthy and Anderson all could return by the second half, enabling the club to save innings with the youngsters later.
One problem: Urias, 19, and De Leon, 23, pitched on strict limits last season, averaging fewer innings than five per start. The Dodgers, though, would not expect either to go deep into games. Righty Joe Blanton will serve as a true long man, giving the club a weapon it lacked last season.
Besides, Urias and De Leon will not be the only available options at Triple A -- righties Ross Stripling, Zach Lee and Jharel Cotton are all capable of contributing, club officials believe. And if all else fails, the team always could trade for a starter in July.
Most teams generally get between 900 and 1,000 innings out of their starters. The Dodgers certainly do not lack candidates to help them reach that level. Healthy candidates, that's another question. Effective candidates, another one still.
Welcome to year one, A.G.
IAN'S IMMEDIATE IMPRESSION
Ian Desmond has yet to field a flyball in Cactus League play, but the Rangers already are excited by his potential in left field.
"When you watch him in batting practice, his reads are smooth," manager Jeff Banister said. "You would never guess this guy hasn't played left field."
Banister cited a play from Sunday's game against the Mariners as evidence that Desmond actually might prove a difference-maker in left.
With the Mariners' Shawn O'Malley on second, Nori Aoki hit a hard smash that bounced off the glove of Rangers shortstop Elvis Andrus. Desmond charged the ball in a dead sprint, then unleashed a powerful throw home. O'Malley might have been out, but catcher Chris Gimenez had vacated the plate, moving up to take Desmond's throw.
"The ball tipped off Elvis' glove into short left-center," Gimenez said. "(Desmond) got to it and threw an absolute laser beam to me at the plate, but I was up above the plate already. Once I saw the ball go off Elvis' glove I was pointing for him to throw it second --€" I thought the run would score easy.
"After that throw, I think he will have zero problems out there. What an athlete."
REGRETS, THEY MIGHT HAVE A FEW
If Desmond proves a success, several teams might ponder what might have been --€" and we're not talking about the Cardinals, who never could have anticipated shortstop Jhonny Peralta's thumb injury.
According to major-league soruces, the Giants showed interest in Desmond playing left field and becoming their version of Ben Zobrist before signing free-agent center fielder Denard Span to a three-year, $31 million contract in early January.
The Orioles showed late interest, sources said, but Desmond viewed the Rangers as a better fit, signing with them for one year, $8 million.
A RARE MISFIRE BY ORIOLES' DUQUETTE
Orioles GM Dan Duquette has had prior success waiting out the market, most notably with outfielder Nelson Cruz, whom he signed to a one-year, $8 million free-agent contract in Feb. 2014.
His strategy was not as successful this offseason.
Duquette succeeded in keeping several of his own free agents and held out for a two-year, $22 million bargain on right-hander Yovani Gallardo. But he effectively struck out in his late search for a corner outfielder, reaching agreement with designated hitter Pedro Alvarez to a one-year, $5.75 million contract after missing on Desmond, Dexter Fowler and Austin Jackson and passing on Marlon Byrd, Alex Rios and the Reds' Jay Bruce.
Fowler, of course, went to the Cubs on a one-year, $13 million deal after declining to complete a three-year agreement with the Orioles. Jackson signed a one-year, $5 million contract with the White Sox, preferring to play center, where the Orioles already have Adam Jones.
Alvarez's left-handed power should play well at Camden Yards, but the added value from his offense could be negated by Mark Trumbo's below-average defense in right field. Trumbo figures to play right against right-handers, with some combination of Nolan Reimold, Dariel Alvarez and Rule 5 pick Joey Rickard playing right against lefties.
The Orioles still lack an outfielder who occasionally can spell Jones in center, a role that they intended Fowler or Jackson to fill.
ROSTER CRUNCH IN OAKLAND
An excess of quality position players generally is not a problem for the low-revenue Athletics, but recent trades for outfielder Khris Davis, infielder/outfielder Chris Coghlan and the seeming revival of Coco Crisp is making for a crowded roster.
Injuries, of course, can and probably will alter the equation. But the outfield mix also includes Josh Reddick, Billy Burns and Sam Fuld, plus Mark Canha and Andrew Lambo, both of whom also play first base. Some A's officials believe that Lambo could be the next Brandon Moss, but where will he play? Yonder Alonso is the principal option at first.
In any case, the surplus of outfielders could force the A's to use Coghlan primarily as a $4.8 million backup infielder, jeopardizing the spot of Eric Sogard, a valuable defender for a team with questionable infield defense up the middle.
Billy Butler also is clogging the roster as the full-time DH; the Athletics owe Butler $20 million over the next two seasons, and have been unable to trade him. A revival by Crisp in the final year of his guaranteed contract would further complicate matters.
Crisp, 36, was running on a 3-2 count Sunday when he scored from first on a single to right-center, prompting general manager David Forst to remark, "He looked five years younger, at least."
Forst acknowledged that while it will be tempting to give Crisp regular at-bats, the Athletics will need to stay disciplined with him to keep him from breaking down.
Burns, like Sogard, has minor-league options remaining. But it's difficult to imagine the A's demoting Burns, who finished fifth last season in the balloting for American League Rookie of the Year.
Fuld would appear a more likely candidate to get bumped; he is set to earn $1.925 million, but his contract is not guaranteed.