Dodgers manager Mattingly snaps at reporter for insensitive question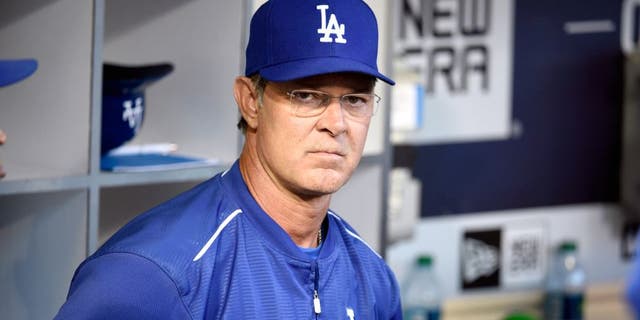 NEWYou can now listen to Fox News articles!
Don Mattingly will be thoroughly examined by the Dodgers' front office this offseason after another disappointing postseason run. Denis Poroy Getty Images
After losing the NLDS and having his season come to an abrupt end, there was one question Los Angeles Dodgers manager Don Mattingly didn't want to be asked, but lo and behold, a reporter posed it to him in his post-game press conference.
Following the Dodgers' 3-2 loss to the Mets in Game 5 of the NLDS on Thursday, Mattingly was asked about his future as the team's manager, a particularly insensitive question to ask a man who has just suffered a disappointing end to the season and who has little say in his future with the team.
"Don, where does this loss leave you for you in terms of next year coming back?" the reporter asks (occurs at the four-minute mark in the below video).
"Seriously? You ask me that now?" Mattingly replied, shaking his head.
Your browser does not support iframes.
It's worth noting that the reporter who posed the question to Mattingly had a heavy accent, which may indicate that English is his second language and he may have botched the wording to the topic he wanted the skipper to discuss (e.g., how he feels about the team's outlook next year).
Nonetheless, it seems as though his question was properly interpreted, which the usually mild-mannered Mattingly certainly didn't appreciate.
While Mattingly will be thoroughly evaluated after another disappointing conclusion to a Dodgers postseason run, he is under contract through 2016.