Dodgers lose 7-6 to Tigers as Jensen gives up HR by Martinez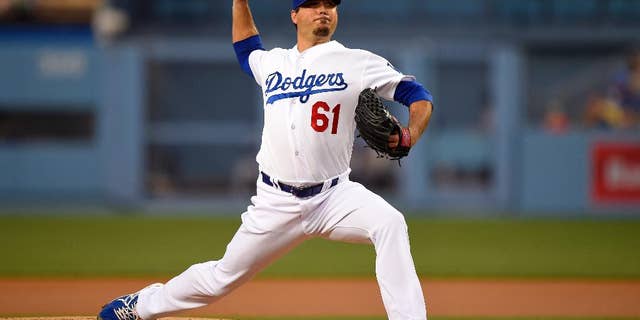 LOS ANGELES – On a night when both staffs combined to make 382 pitches and both closers struggled, Kenley Jansen was the one who took the loss and Joe Nathan came out of it with a victory.
Josh Beckett's long-awaited return became more of a footnote.
Nathan blew a three-run lead in the ninth inning Wednesday night against the Dodgers.
But teammate Victor Martinez picked him up in a big way with a leadoff home run in the 10th against Kenley Jansen, and Detroit pulled out a 7-6 victory.
Beckett threw 85 pitches through four innings, giving up five runs — four earned — and five hits while striking out five.
"It was just rust," Beckett said. "After the first inning it was just a baseball game. I felt good in that fourth inning."
The three-time All-Star, who joined the Dodgers in a nine-player megadeal with Boston in August 2012, made only 15 starts with them prior to this one because of injuries that had sidelined him since his previous outing on May 13 of last season.
Beckett gave the Dodgers a 3-2 lead in the second, laying down a suicide-squeeze bunt in front of the plate with 235-pound Juan Uribe charging down the line. It was Beckett's first RBI since June 14, 2009, when he homered against J.A. Happ in an interleague game at Philadelphia.
But the Tigers pulled ahead 5-3 in the third when Nick Castellanos drove a pitch to center field, and the ball skimmed off the top of the eight-foot fence before landing on the other side. It was his first big league homer.
Martinez drove a 2-2 pitch deep into the pavilion seats in right-center to make an unlikely winner of Nathan (2-0). One night earlier, Martinez tied the score with a two-out single in the ninth against Jansen before the Dodgers pulled out a 3-2 victory in 10.
"Kenley Jansen is filthy, but Victor Martinez is a professional hitter," Tigers outfielder Torii Hunter said. "He's at the plate, just trying to figure you out, and I think he figured out how Jansen's ball moves.
"He was able to get inside of it and hit it out of the ballpark and come up with another clutch hit. That's what this team is capable of doing. We have some veteran guys who have good at-bats and can get the job done."
Joba Chamberlain gave up a single to Hanley Ramirez to open the 10th. But left-hander Ian Krol struck out Adrian Gonzalez and Andre Ethier, and Al Albuquerque retired Matt Kemp on a grounder to get his first major league save.
Nathan, who said during a radio interview earlier in the day that he was experiencing a "dead arm" — and reiterated those thoughts in the clubhouse before batting practice, was trying to protect a 6-3 lead for Anabel Sanchez.
But Gonzalez led off with a home run to center field, and the Dodgers loaded the bases with walks to Ethier and Kemp and a single by Uribe.
Yasiel Puig, who wasn't in the starting lineup for the third straight game because of a strained ligament in his left thumb, batted for Tim Federowicz and struck out. Pinch-hitter Scott Van Slyke got a run home with a fielder's choice grounder before Dee Gordon singled to right field, delivering Kemp with the tying run.
"Joe's stuff looked as crisp as we've see it, and he said he felt like that was the best stuff he's had, in terms of the break on his slider and the way the fastball came out of his hand," manager Brad Ausmus said. "So maybe once he got out there, his arm played a little better than he mentioned earlier."
Sanchez allowed three runs — one earned — and six hits over five innings and struck out six.
Hunter did not play because of a bruised left knee, which occurred Tuesday when he tried to make a sliding catch of a foul ball by Federowicz near the short padded wall in front of the grandstand.
"I came here early today, trying to get it loosened up, and it's still swollen," Hunter said. "I can't really do too much about it. But it's only been a little over 24 hours, so what we're going to do is just take it one day at a time. My plan is to come back Friday, but if it's still a little sore, we want to get rid of it early in the season so I'll be able to perform for my ballclub."
NOTES: One of A.J. Ellis' biggest regrets about going on the disabled list Tuesday was missing this series against the Tigers and new manager Brad Ausmus, his teammate during Ausmus' final two major league seasons (2009-10). "I was fortunate to catch in the major leagues before I met Brad, but I wasn't a major league catcher until after I met Brad," Ellis said a day after undergoing arthroscopic knee surgery. "The two-year mentorship he gave me was what turned me into the catcher I am today. He taught me how to prepare a game plan, how to take care of my body in between starts, how to be a better teammate, and how my focus should be on my pitching staff only. So it's no shock to me that he's a manager now. And as long as he wants to do it, he's going to be successful. I missed the chance these last two days to look over from behind home plate into their dugout and watch him mess up on double-switches, put in the wrong guys and make a (replay) challenge at the wrong time. I was looking forward to that."