Dodgers get to Miller, who needs MRI, for big inning to keep D-backs from sweep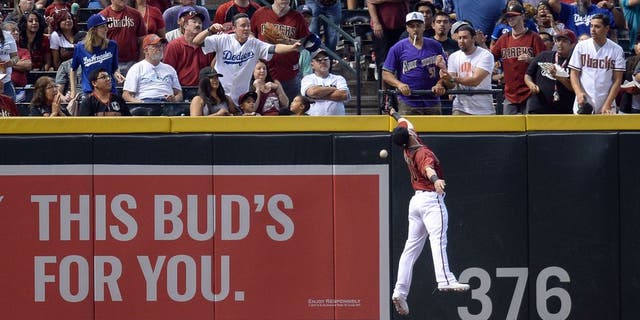 PHOENIX -- Brandon McCarthy has been the Los Angeles Dodgers' best pitcher not named Clayton Kershaw this season.
On Sunday, with his team in dire need of a good performance, McCarthy was the best he's been so far.
The 33-year-old right-hander threw seven strong innings and got plenty of support with a six-run fifth inning in a 6-2 victory over the Arizona Diamondbacks on Sunday.
The win prevented a three-game Arizona sweep.
After an injury-plagued first season with the Dodgers in 2016, McCarthy is 3-0 in four starts with a 2.25 ERA.
"He's just got a good look in his eye," manager Dave Roberts said. "I like the word relentless and I think that right now he's in that focused mindset and he's relentless."
After scoring 24 runs in the first two games of the series, the Diamondbacks managed only a first-inning, two-run home run by Paul Goldschmidt.
McCarthy (3-0) blanked Arizona on two hits after that. He went seven innings, allowing two runs on five hits with six strikeouts.
"I started hitting more spots," McCarthy said. "The first couple of hitters I was just not commanding very well. Then at that point I got, not necessarily settled in, but just kind of got a grip on what I was doing and the ball started going closer to where I wanted it so it's not as easy to give up hard contact."
Shelby Miller (2-2) threw four shutout innings before walking the first two batters and giving up an RBI double to Corey Seager in the fifth. He threw one more pitch and left after a visit to the mound by the Arizona trainer. Miller had tightness in his right forearm.
He'll have a precautionary MRI on Monday according to Diamondbacks manager Torey Lovullo.
Lovullo said he got a signal from an Arizona player that something wasn't right and made the decision to remove Miller from the game.
"These are tough things for me to address. It is really unfortunate," Lovullo said. "Shelby has been throwing the ball really well. This is a minor setback for him but, numbers aside, you just hate to have a situation like this pop up."
Miller downplayed the problem.
"I feel it will feel better tomorrow," he said. "I don't think it is that big of an issue. Just one of gross things that flares up when you are out there."
The Diamondbacks lost at home for just the second time in 10 games this season.
Adrian Gonzalez doubled twice, the second one off the left field wall to drive in two runs in the fifth-inning Dodger eruption.
All six runs in the inning came with no outs.
Randall Delgado relieved Miller and gave up a single to Wes Turner, the two-run double by Gonzalez and Grandal's third home run of the season, a two-run shot into the right field seats on the first pitch.
McCARTHY'S SOCCER
After the game, McCarthy was off to suburban Scottsdale to watch a game played by Phoenix Rising. McCarthy has a share of ownership in the second-tier U.S. team.
And Sunday was a big night, with international star Didier Drogba to make his first appearance. Drogba is to play, though not Sunday night, for the team as well as serve as part-owner.
"It's a fun thing to be a part of," McCarthy said. "But it wouldn't have been as fun if things hadn't worked out today."
UP NEXT
Arizona, in the midst of a 10-game home stand, sends Zack Greinke (1-2, 3.28 ERA) to the mound Monday night in the series opener against the San Diego Padres, who will start Jhoulys Chacin (2-2, 4.70). The two squared off last week, Greinke pitching a complete game but Chacin getting the win in a 1-0 Padres victory.