Do the math: Some surprising numbers from this year's Chase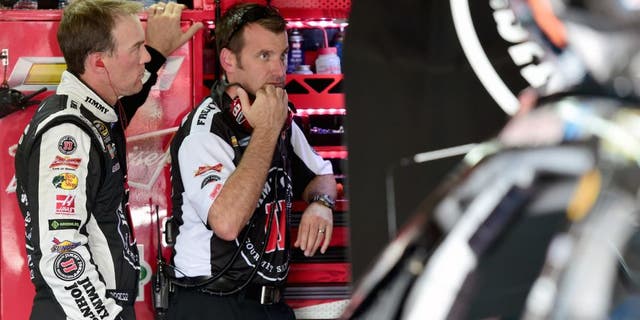 NEWYou can now listen to Fox News articles!
Sunday's Hollywood Casino 400 at Kansas Speedway will mark the halfway point in this year's Chase for the NASCAR Sprint Cup. And already, the 12 drivers still alive in the championship hunt have posted some compelling numbers.
Most laps led -- This one isn't even close. Kevin Harvick has led 581 of the 1,301 laps run so far in the first four Chase races. That's 44.7 percent. The next closest is Joey Logano, who has led 228, including 227 in his Charlotte victory.
Worst average finish -- Kyle Busch and Dale Earnhardt Jr. have each averaged a 17.0 finish through the first four races. Busch has a best finish of second at Dover; Earnhardt's best finish of third also came at Dover.
Worst single finish -- Harvick finished 42nd in the Chase opener at Chicagoland, as did Matt Kenseth last weekend in Charlotte. No one else has finished worse than 37th in any race.
Most top 10s -- Logano is the only Chase driver with four top 10s in the first four races. Not coincidentally, he's the points leader heading into Kansas.
Most races led -- Kenseth is the only driver to lead at least one lap in all four Chase races so far. He led just one lap at Chicagoland, where he wound up fifth, and had a high of 72 laps led at Charlotte, but finished 42nd there.
Most top fives -- Denny Hamlin is the only driver to finish in the top five in three of the first four Chase races. He won at Chicagoland, was second at New Hampshire and fourth at Charlotte.
Fewest races led -- Through the first four races of the Chase, neither Ryan Newman nor Earnhardt Jr. has led a single lap. Brad Keselowski has led a mere four laps.
Fewest top fives -- Jeff Gordon and Keselowski are the only two remaining Chase drivers without a top five in the first four Chase races. Keselowski had a best result of eighth at Chicagoland, while Gordon's best was a seventh-place outing at Dover.
Best worst finish -- Logano's worst single race so far in the Chase was Dover, where he finished 10th. Each of the 11 other Chase drivers has finished 13th or worse in at least one race.
Fastest race -- The Chase opener at Chicagoland was also the fastest of the four races run so far, with winner Hamlin averaging 140.117 miles per hour in victory.