'Disappointed' Andrei Arlovski wins decision over Frank Mir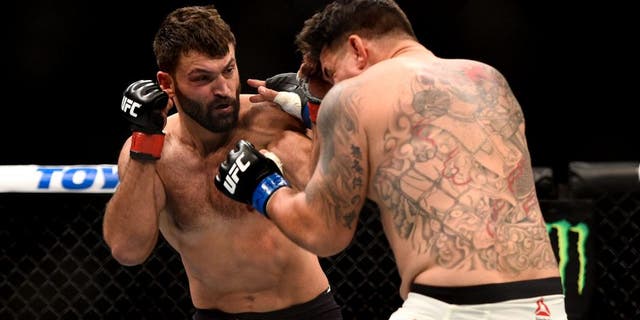 Andrei Arlovski was pressured in the first round, taken down in the second and dropped with a punch in the third rounds of his heavyweight UFC 191 co-main event contest against Frank Mir, Saturday, but still won a unanimous decision from the judges. Scores were 29-28 (twice) and 30-27 for "The Pit Bull".
To be sure, Mir employed a tactically conservative strategy that saw him punch his way into the clinch and work for takedowns from there. Arlovski was more active with punches, including late in the third round, when he managed to tag the former two-time champion several times.
Still, Mir seemed to be able to stifle most of Arlovski's offense by closing the distance or taking him down in the first two rounds. Arlovski may have landed his hardest punches in the third, but he was also knocked down by a lunging right to the back of his head.
Despite the win, which will carry him closer to title contention once again, the fighter out of Belarus was not happy with his performance. "I'm disappointed," he told Joe Rogan.
"To be honest with you, I thought it was going to be an easy fight and it wasn't...I've got to change something."
In the end, the judges would appear to have rewarded the man looking to strike on the feet, rather than the fighter who used a conservative strike-and-clinch strategy, with counter-strikes behind taunting baits mixed in. Frank Mir and his corner shook their heads as they left the cage in disbelief.
The loss drops Mir's record to 18-10. The win improves Arlovski's mark to 25-10.