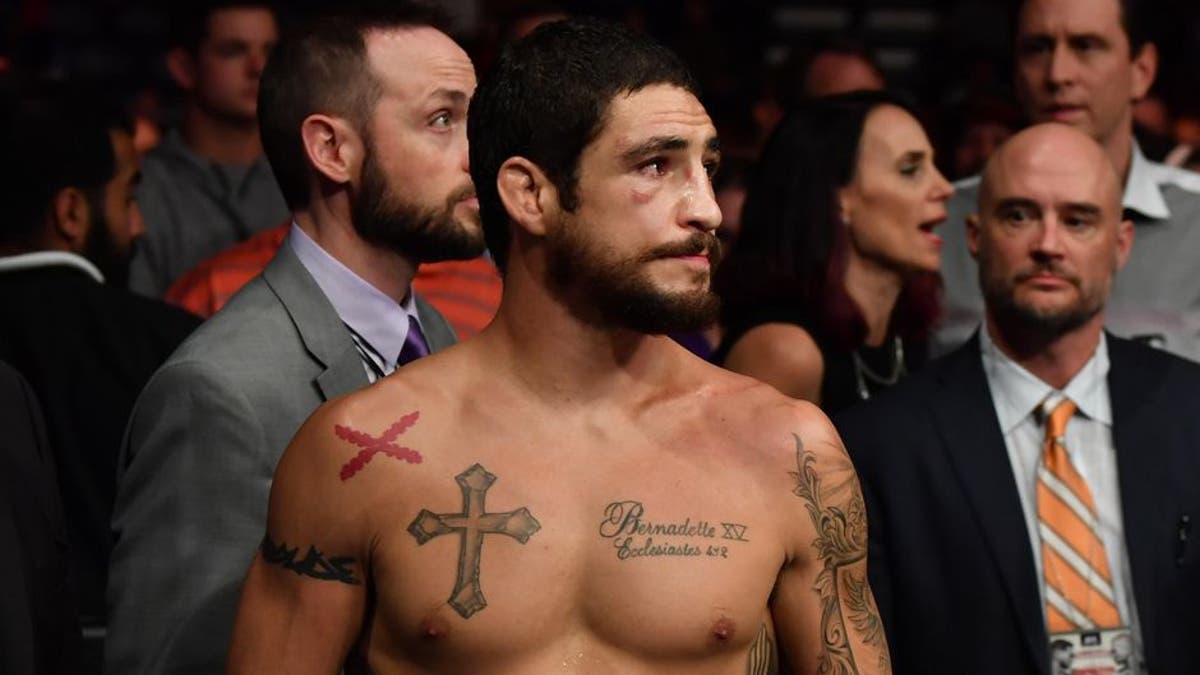 For the second time in his past three fights, Diego Sanchez suffered a knockout loss and the setback had many calling for "The Ultimate Fighter" season one winner to consider hanging up the gloves for good.
Sanchez is routinely referred to as a legend of the Octagon following his role on the first season of the groundbreaking UFC reality show, not to mention the epic wars he's put on while competing in the promotion for the past decade.
Still, Sanchez has fallen on harder times lately with a 4-6 record over his past 10 fights, including the two knockouts, which are the only times he's been finished by strikes during his entire mixed martial arts career (Sanchez did suffer a TKO loss to B.J. Penn but that fight was stopped due to cut).
All those factors may slow down some fighters, but not Sanchez, who says while he appreciates the concern over his health and well-being, he's doing fine just physically and has no plans to retire from the sport just yet.
"This is a heart felt message for all the supporters of what I do but more importantly what I stand for as a athlete a man and warrior of the Octagon," Sanchez wrote on his Instagram account. "After evaluating the situation with a clear mind I have two options? The first is to feel sorry for myself start doubting myself, God and everything that makes me a winner?
"Thinking negative like many people would and even are the people that are not in my shoes the people who have no clue and just are so fast to throw out retirement and this and that? You're not me! So just shut your mouths right now before even saying it, it's not yours to say!"
Sanchez fired back at the critics while also pointing out that he's not the first fighter to suffer a few losses during his career before battling back.
That's why this particular loss won't serve as anything more than a wake up call for Sanchez to fix what went wrong so the next time he steps into the Octagon, the fight will go his way instead of towards his opponent.
"Losing is a part of this sport, I choose to believe in my God given abilities and hard work earned talent!" Sanchez wrote. "I choose to believe in my dream! I am confident, I am experienced, I am still very healthy, young for my physical age and more driven and hungry for success than ever. So I choose to continue to roar like a lion for the lord Jesus and do what I do and that's fight on!
"To all my fans and friends that believe in me I love you guys! To all my family that loves me and has there concerns let me assure you I have been tested at the best facilities In The world my cognitive health is the same if not better than it's ever been I'm sharp, sober minded and extremely healthy so I know it hurts to see a warrior you love fall but it's part of it and when I am no longer able to compete with the best fighters in the world I will look to what is next! As for now I'm a beast that got caught with a perfect shot. I'm all good and will be back with adjustments that will prevent that from ever happening again! So today I thank god I was not injured in the fight. I still have a iron jaw and a lion heart and a sober mind. You doubters you gonna doubt it's what [you] do."
Clearly, Sanchez has no plans to retire now or any time in the near future as he looks to redeem himself the next time he steps back into the cage for competition.