Diego Sanchez out duels Jim Miller in three round battle at UFC 196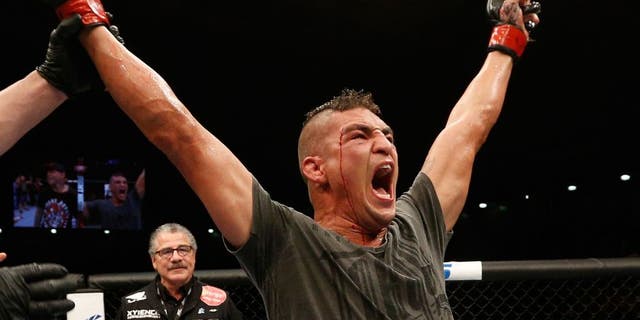 Diego Sanchez outbattled Jim Miller over three rounds to get a unanimous decision win in his return to the lightweight division at UFC 196.
It was arguably a must win for both fighters after some up-and-down performances in recent bouts, but Sanchez was able to seize the moment with a strong showing over three rounds.
Sanchez came out like a ball of fire, but after a brief exchange he backed up and instead looked for the takedown and put Miller on his back.
Stuck up against the cage, Sanchez continued to hammer away at Miller from the top while the New Jersey native did his best to contain the damage he was taking while fishing for any potential submission attempt.
Miller launched a heavy body kick to open round two but the loud thud of his foot hitting Sanchez's midsection didn't stop the former "Ultimate Fighter" winner from planting back on the ground.
Unlike the last round, Miller was able to work his way back up from the mat where he began attacking Sanchez with good boxing and even a glancing head kick.
Sanchez once again rushed in for the takedown but nearly got locked into a front choke from Miller while he also ate more than a few knees for his trouble before finally slipping free.
Following two back-and-forth rounds, the final five minutes likely sealed the deal for either fighter, but Sanchez seemed to get the better of the exchanges although neither fighter was putting much together in the way of combinations.
As the final 10 seconds ticked away, Sanchez and Miller threw caution to the wind and just started winging punches until the final horn sounded.
With three closely contested rounds in the books, the judges all returned scores of 29-28 giving the hard fought win to Sanchez.
Following a lone fight at 145 pounds, Sanchez made a victorious return to lightweight and continued to put on the kinds of fights that will likely earn him a bonus at the end of the night. As for Miller, he drops to 1-4 over his last five fights in what has become the toughest stretch of his entire career.