Diego Sanchez inspired by Conor McGregor to move down to featherweight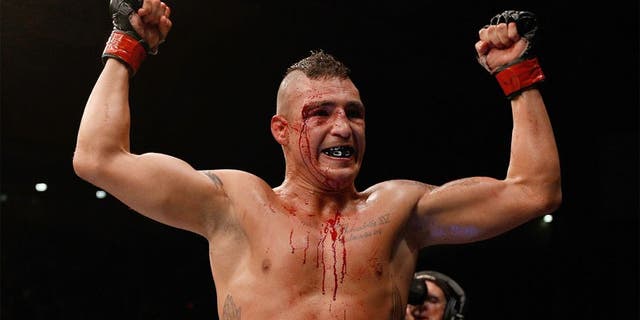 When Diego Sanchez steps on the scale this Friday to weigh in for his bout against Ricardo Lamas it will be the fourth different division he's competed in since joining the UFC after "The Ultimate Fighter" Season One.
Sanchez debuted as a middleweight, although he was clearly never a true 185-pound fighter, before cutting down to welterweight and then lightweight, where he competed for the title in 2009.
Size definitely matters in many fights and Sanchez has rarely, if ever, been the bigger man in any of his matchups. But he was inspired by an outspoken Irishman to make the move down to featherweight, where he hopes he'll finally enjoy some of those height, weight and reach advantages he's hardly had during his UFC career.
"I've got to thank Conor McGregor for that one," Sanchez told FOX Sports. "I had never seen a guy his size make 145 and he kind of showed me that's something possible. In my last fight, I didn't feel like the weight cut was that hard and I got to eat a lot, even though I used the Mike Dolce program and he's known for having his fighters eat a lot, but I got to eat a lot and it just seemed realistic. Ten more pounds that's possible. I felt like maybe this is something that was realistic.
"I saw Conor McGregor being a huge 145-pounder with long reach and taller than his opponents and that's something that I've always wanted. I always wanted to be the taller, longer fighter with more reach so I made a decision and even if I do lose a little bit of muscle I'm going to have a longer reach, and I'm going to be able to hit them from farther away and utilize leg kicks and my knees and my elbows a lot better."
When Sanchez steps into the Octagon on Saturday night to face former featherweight title contender Ricardo Lamas it will be his 22nd time competing in the UFC, but at 33 he still believes there's plenty of road left ahead in his career.
While many fighters actually go up in weight as they get older, Sanchez loves to challenge himself and challenge his body ahead of a fight so moving down to 145-pounds was a great way to stay in peak condition in his training camp.
Sanchez knows that actually making the cut down to 145 pounds won't be easy, but he feels with the work he's been doing lately, even if the final hours before hitting the scale as a featherweight are rough, he'll recover in time to beat Lamas on Saturday night.
"I had a long training camp for this fight so I was really able to put a lot into my strength and conditioning before I even got inside the gym. I really, truly feel like I'm in the best shape of my life," Sanchez said. "I'm ready to give it a go and recover from this weight cut.
"I've prepared myself in the best shape of my life knowing that this weight cut, yeah it might take a little bit out of me, but I'm prepared even though it takes a little bit out of me, I'm going to have so much in my training and my preparation and everything that I've done in the gym, I'm ready to make the weight at 146 and move forward."
Rather than take any fight at featherweight, Sanchez is starting at the top of the heap by facing Lamas, who is currently ranked No. 4 in the world in the 145-pound division.
Sanchez has never backed down from a tough fight and he actually believes he's at his best when the odds are against him with the best possible opponent standing across from him in the Octagon.
"I get that guys are tough and with me and my past history with the UFC, the fights that didn't challenge me and maybe it's because I've been fighting so long, but the fights that didn't challenge me it was not my best performances," Sanchez explained.
"So when I get a tough guy, I know he's going to train hard, I know he's going to bring things to the table and high-risk, high-reward situations were always my best performances. This is no different."
Sanchez will hope to kick things off at featherweight the same way he did his two previous divisions after first debuting at middleweight. When Sanchez officially dropped down to welterweight he picked up five wins in a row and then picked up two consecutive victories after moving to lightweight to earn a title shot.
He hopes to find the same success in the featherweight division, starting with a win over Ricardo Lamas.
"It's going to be awesome when I beat him and I'm back into the top of a new division," Sanchez said. "It's going to be great to start off 2016 in that position and that's my goal."