Diego Costa says Antonio Conte told him he has no future at Chelsea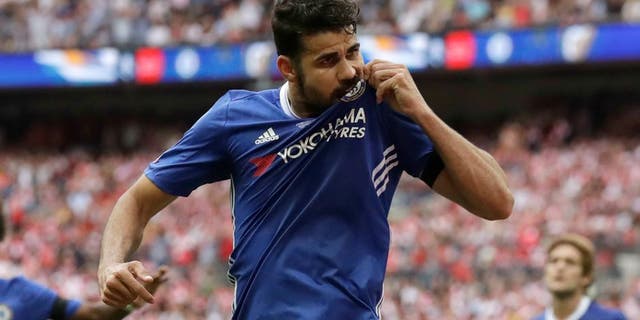 NEWYou can now listen to Fox News articles!
Diego Costa has been told he's no longer a necessary player at Chelsea, according to the striker.
On internationalduty, the striker spoke to the media on Wednesday, revealing he'll "have to find a way out" of the blue side of London. He also revealed a strained relationship with the Chelsea manager, although that was always a poorly kept secret.
Im going to be honest, the other day, Conte sent me a message saying he does not count on me for next season, so Ill have to find a way out,"Costa said after Spain's 2-2 friendly draw against Colombia, via The Guardian.
Perhaps there's a translation error there, but it seems that Conte broke the news to his striker via a text message. If that's the case, that's cold as ice from the Italian manager. Then again, Costa also confirmed what most suspected in that he and his fiery manager didn't see eye-to-eye.
My relationship with the coach has been bad this season. I suppose Ive had a bad season so I cant go on, he said.
This content is subject to copyright.
Despite a team-high 20 goals for the Premier League champions, Costa could be shown the door. Coming in that very same door could be Romelu Lukaku, as has been the rumor.
The Costa revelation puts Chelsea in an interesting position, though. Costa previously made it clear he only desires to remain in Europe, with a return to Atletico the preferred destination. Dealing with a transfer ban, Atletico can't register any new players this transfer window. Costa acknowledged that on Wednesday, tempering his demands on where he plays next season.
"Its complicated because I cannot go four or five months without playing," he said. "I have no preference for a league, I just want to play." Could that mean a backpedal on his reluctance to play in the Chinese Super League? Maybe Chelsea could find a suitable club to loan Costa to until the winter transfer window, where Atletico if they so desire could purchase the outcast striker.
Even though Chelsea are just a few weeks removed from lifting the Premier League trophy, the overhaul forConte's squad is in full swing. The apparent first order of big business: Telling the team's top scorer he's no longer required.
The transfer season is well and truly upon us.