Did refs rob Patriots by swallowing whistle on last-second Brady pass to Gronkowski?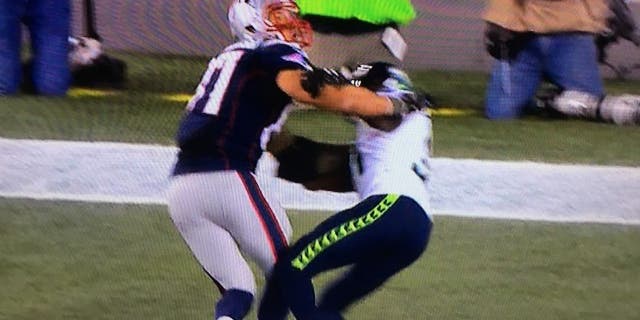 NEWYou can now listen to Fox News articles!
Did Kam Chancellor interfere with Rob Gronkowski on New England's final play in Sunday night's eventual 31-24 loss to the Seattle Seahawks? Did Gronkowski get a little push-off himself? Did the officials swallow another whistle to give Seattle a crucial win?
I don't know. I don't know. I don't know. I'm a firm believer in football karma and since Seattle got away with a major pass interference call in a Week 6 victory over the Falcons, maybe they should have gotten some payback here. But after watching this play over and over, I, to borrow a phrase, think I think this: Officials got it right not throwing a flag on that fourth-and-goal play from the one. It was a good no-call.
Here's how it all went down: After Pete Carroll's controversial decision to go for a two-point conversion that would have put Seattle up nine points had failed, New England had plenty of time to drive down the field in hopes of getting a game-tying (seven point) touchdown. A beautiful Tom Brady pass (he and Russell Wilson had so many on Sunday night) to Gronkowski put the Pats on Seattle's 2 with 1:29 left. A Brady sneak failed on first down. LeGarrette Blount was about eight inches from scoring a touchdown on second down. Another Brady sneak on third down failed, this time almost disastrously as the center/quarterback exchange was sloppy and Brady had to fall on a fumble to keep New England alive. Then on fourth-and-goal from the 1, the Pats went big, split Gronkowski wide and threw the fade route that bedevils so many quarterbacks.
Kam Chancellor was manned up on Gronkowski. Contact was made just before the ball went in the air. The two players were engaged until a split second before Brady's pass got to the spot, whereupon Gronk let go, leaped and saw the ball fly over his head. His pleas for a flag went unheeded. Seattle took over and the game was done.
If you watch the end of the play, Chancellor has his arm wrapped around Gronkowski. A clear hold. Have to throw the flag. If you watch the beginning, Gronk plows into Chancellor like a bull charging a matador. A call offensive pass interference. Have to throw the flag. Right?
No. When both players are going at each other in such a crucial moment, eating the flag is the only way to go. Offsetting penalties doesn't work with under 20 seconds left and identifying one or the other for a penalty would have been far more controversial.
Simply put, Seattle played a better game and won (unlike that Atlanta game one month ago). But if New England fans still want to complain about the endgame, then the fourth-down fade to Gronkowski is probably the better jump-off for an argument. Throw that on second or third down. On fourth down, with that big guy package in there, run it up the gut and pray.