Dickerson ready to hit, timetable for return remains unknown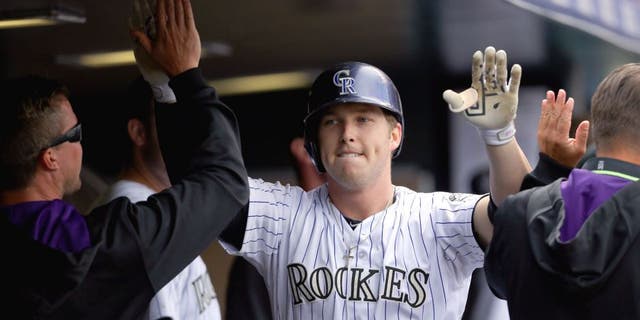 Outfielder Corey Dickerson is getting back into baseball activities, but the Colorado Rockies still haven't pulled back their cautious approach in returning him back to the baseball diamond.
The Denver Post reports that Dickerson, who has been on the disabled list for a month with fractured ribs he sustained while diving for a catch, was slated to take live batting practice for the first time on Monday but was unable to due to inclement weather.
Nonetheless, Dickerson is ready to hit and eager to return to the Rockies.
"I could play today," Dickerson said, half-jokingly, per the Post. "I've been hitting in the cage for four to five days. I don't worry about it anymore. I worried about it at first, but I don't even think about it now."
The 2015 season has been an injury-filled year for the 26-year-old left fielder.
In addition to fracturing his ribs, Dickerson has been dealing with plantar fasciitis in his left foot, a condition that twice sent him to the disabled list earlier in the season.
In total, Dickerson has only played 43 games this season.
Despite his anxiousness to return to action, the Rockies say they will remain cautious in determining when he'll return to the team, and no timetable has currently been set for his return.
"We have to weigh the pros and cons of whether we want to put him back out there in competition or let everything heal up," manager Walt Weiss said.
(h/t Denver Post)