Dez Bryant says more Giants players should act like Odell Beckham Jr.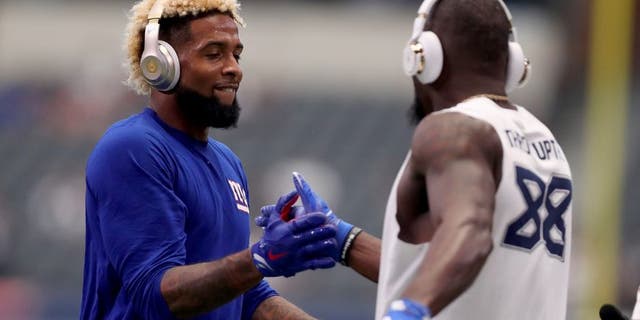 Odell Beckham Jr. is one of the NFL's most polarizing players. He's a tremendous talent and is certainly among the best wide receivers in the game today, but his emotions get the best of him far too often. Whether it's putting a hole in a wall at Lambeau Field or his weird relationship with a kicking net, Beckham has had his share of emotional outbursts.
Despite his flaws, Beckham has the support of another star receiver who's been pegged as a fiery competitor, too. Dez Bryant came to Beckham's defense at the Pro Bowl on Saturday and said Giants players should be more like him if they want to win.
"Whenever something doesn't go right, as far as a team loss, y'all don't like his actions, and all it is, is just him wanting to win the game," Bryant told ESPN. "If more people were like that on his team, maybe they would do something special."
There's no question Beckham is an elite receiver, and if the Giants had four of him, they probably would win more games. However, his lapses in judgment do create distractions for the team. The boat trip, the sideline tantrums, the on-field feuds with Josh Norman -- they all cause issues for the Giants.
Regardless of those issues, Bryant doesn't think Beckham has to explain himself when he does get criticized. That's because no one understands him, Bryant says.
"He's a talent that a lot of people wouldn't be able to understand," he said. "You want to criticize him. You want to talk about him because you just don't understand him -- his whole mindset, the way he goes about his game. He's a hell of a football player. He's a great football player."
Bryant and Beckham, despite playing for bitter rivals, maintain a close relationship. They played catch before the season opener in September and share an off-field friendship when they're away from the gridiron.
"It's probably a relationship that a lot of people wouldn't be able to understand. Y'all like to criticize us for the little crazy things, but that's why we have each other, to keep each other lifted and to keep each other going."
Beckham and Bryant will be on the same team Sunday night at the Pro Bowl when the NFC squad takes on the AFC.