Dez Bryant is recruiting DeMarco Murray back to Dallas on Twitter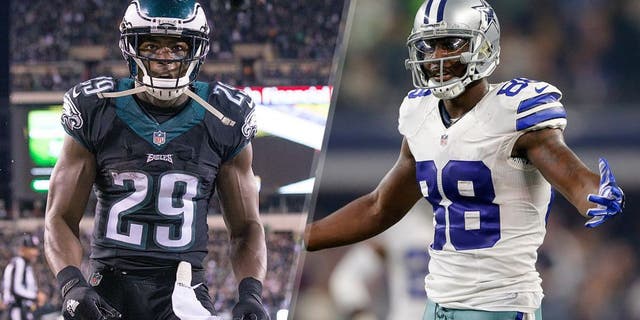 The marriage between DeMarco Murray and the Philadelphia Eagles hasn't been a pretty one thus far. After getting off to a slow start, Murray found himself tumbling down the depth chart late in the year. In each of the final seven games, he received fewer than 15 carries and didn't top 70 yards in any game after Week 9.
It appeared as though that was a result of Murray's poor scheme fit in Chip Kelly's offense, but that may not be the case. According to Ian Rapoport, Murray's future in Philadelphia is in doubt and the two sides could be "headed toward a stare-down."
Dez Bryant caught wind of the report and didn't waste any time recruiting Murray back to Dallas. He sent out this tweet, which included Jason Witten and Tony Romo, seemingly encouraging them to join in on the recruitment.
Murray returning to the Cowboys seems unlikely, given the numerous chips (no pun intended) that have to fall the right way. He just signed a five-year, $40 million deal with the Eagles last offseason -- a deal the Cowboys weren't willing to match.
There are also questions about Murray's effectiveness at this point in his career. Coming off of a 392-carry season in Dallas, Murray averaged a career-low 3.6 yards per carry and 46.8 yards per game in 2015 on just 193 attempts.
If the Cowboys weren't willing to pay big money for Murray a year ago, why would they now? Additionally, the Eagles would incur $13 million in dead money if they release him before June 1, and a trade would be difficult to work out. Bryant can dream about a reunion, but it doesn't seem likely at this point.