DeVante Parker's status still unknown, could be 'weeks away'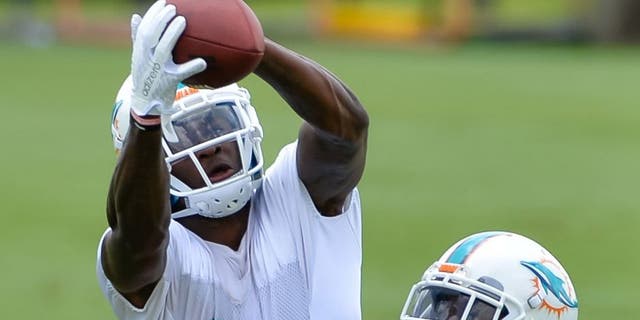 NEWYou can now listen to Fox News articles!
The Miami Dolphins invested a first-round pick in wide receiver DeVante Parker and are expecting big things from the rookie this season. The only downside is that they might have to wait a little while before seeing just how good the kid is.
After undergoing foot surgery earlier this offseason, Parker has been extremely limited in his time on the field. And unfortunately, he'll continue to be limited, with the possibility that he could miss the preseason.
According to head coach Joe Philbin, there's no timetable for the rookie's return. In fact, Philbin didn't have much to say on the topic.
"It's hard to say; we're not sure exactly when he's going to get back," Philbin said, via ESPN. "I don't know if he's going to practice? How much he's going to practice? If he's going to play in the preseason? Those are all hypotheticals."
It doesn't sound promising for Parker, according to his head coach, but not much will matter if he is on the field for the season opener. Of course, it'd be helpful if he could get some time with his quarterback Ryan Tannehill before the season kicks off, but he's talented enough to make an impact without practice or preseason games.
While Philbin didn't have much to say about Parker's status, Armando Salguero of the Miami Herald gave Dolphins fans a more detailed timeline for when they can expect to see their prized rookie on the field.
If the timetable is indeed three to four weeks, it would give Parker a slight chance to play in the team's final preseason game against the Tampa Bay Buccaneers on Sept. 3. Other than that, it might be tough for Parker to see any preseason action.
(h/t ESPN)