Detroit QB Matthew Stafford will be on the spot after last season's collapse, coaching change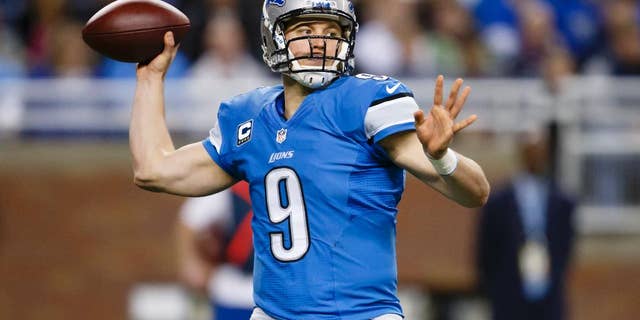 ALLEN PARK, Mich. – Matthew Stafford will be on the spot this year for the Detroit Lions, and the 26-year-old quarterback understands that.
"In the NFL, if your quarterback plays really well, your team generally plays pretty well," Stafford said Thursday. "We're no different than any team. So the better I play, the better we're going to play as a team."
Stafford has put up some big numbers in his five seasons with the Lions, but he's taken them to the playoffs only once. After a late-season fade last year — with Stafford's turnovers a primary culprit — Detroit changed coaches, and the team seems to be going out of its way to try to surround its quarterback with what he needs to succeed.
Jim Caldwell replaced Jim Schwartz as coach, giving Detroit an offensive-minded leader who has worked with Peyton Manning in the past. The Lions also hired Joe Lombardi as offensive coordinator. He worked with Drew Brees as an assistant in New Orleans.
Stafford downplayed the idea that he was the main reason for those hires, but he's looking forward to a chance to take a step forward.
"I think I can always improve," Stafford said. "I've had some really great moments, some bad moments for sure. The biggest thing I want to do is help this team win any way I can. I'm going to be learning a new system, and I want to be coached in that system as well as I can."
Stafford has thrown for more than 4,600 yards in each of the past three years, but he threw 19 interceptions last season, his most since he was a rookie. The Lions blew a chance at a playoff spot by losing six of their last seven games — and Stafford was intercepted 12 times over that span.
"He's dedicated. He wants to be good," Caldwell said. "He's a worker. I have no doubt that a guy that has that kind of attitude — and obviously, he has ability, both physically and mentally, he has the intellect to do it. I think he's going to be fine."
Caldwell is optimistic that Stafford can learn a new system fairly easily. He says there are enough similarities between different offenses that a player with as much experience as Stafford should be OK.
"Really, there's probably not going to be too many routes that he's not familiar with in terms of how they're applied," Caldwell said. "The only thing that changes is the verbiage."
Stafford will have a slightly different group to throw to this season. Nate Burleson was cut by the Lions and replaced by wide receiver Golden Tate.
But Detroit was able to keep tight end Brandon Pettigrew and running back Joique Bell, giving Stafford plenty of options alongside star receiver Calvin Johnson.
"Everybody on our team has a clean slate," Stafford said. "You have to go out and prove yourself to these coaches and get them to trust you."
NOTES: Stafford said DT Ndamukong Suh's absence from the team's offseason program this week is not a huge issue. "He's a guy that has trainers that he likes to work with, and he's done it sometimes in the past, and we understand it," Stafford said. "One thing that we know is when he shows up, he's going to be in great shape and he's going to be playing great football." ... Caldwell said Suh's absence did not take him by surprise. "We had conversations," the new coach said. "It didn't blindside me."