Despite soreness, setbacks, Giancarlo Stanton still hopes to return to Marlins this season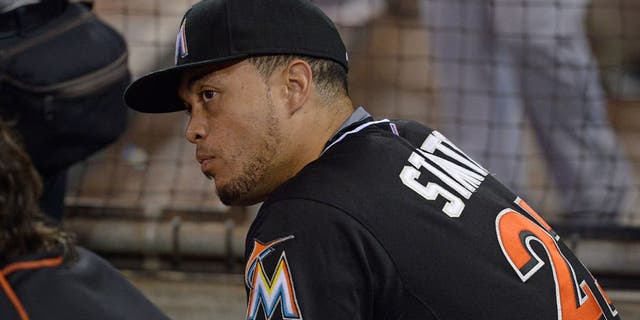 NEWYou can now listen to Fox News articles!
MIAMI -- Miami Marlins All-Star slugger Giancarlo Stanton would like to return before the season ends, but there is some concern he won't.
Stanton, who addressed the media Sunday morning for the first time since his only rehab game Tuesday with Single-A Jupiter, had surgery on a left hamate fracture June 28. His last game came two days earlier against the Los Angeles Dodgers when he experienced pain in his final at-bats.
"A little bit," Stanton said of his doubt. "You can't keep going with the days off and then coming up and still try to have my timing and everything right now, especially it has to be show-and-go because there's no minors to play in. That's the other element.
"There's always a possibility (of not returning), but (that's) not what I'm looking for."
The 25-year-old right fielder has hit in the cage once since experiencing the discomfort Tuesday, calling it "alright." He planned on hitting off a tee Sunday.
The initial timetable for recovery called for 4-6 weeks. During the last homestand of August, Stanton said he hoped to be back in a week-and-a-half, which fell this weekend against the New York Mets.
Asked why it has taken longer than expected, Stanton said there's "no real explanation except how I'm reacting to it. I have a lot of torque, lot of turnover."
"It's my pinkie and ring fingers' strength," Stanton said. "They're lacking, so those shut down completely -- completely with surgery -- so I'm coming from zero. You can say this area (points to hamate) shut down completely, but it's different because they took that out. To have no grip strength, no feeling at first -- that's what I'm coming back from. So that's taken way longer than I could've anticipated."
Stanton led the majors in home runs (27) and RBI (67) through 74 games at the time of the injury. He was named National League Player of the Month for June and also got voted into the All-Star Game as a starter for the first time in his career.
With less than a month to go, what is there to gain from coming back?
"Just not having seven months off playing baseball," Stanton said. "No peace of mind either way to be honest. It's just better to be out there than not. It's not like I'd be worried about playing with that time off. I want to play. It doesn't matter 'so there's not any worries.' Just if I'm ready to play, I want to play. It's not a timing issue. It's when I'm ready to play, I want to play."
You can follow Christina De Nicola on Twitter @CDeNicola13 or email her at cdenicola13@gmail.com.