Despite rout, Hokies defense positioned to be among ACC's best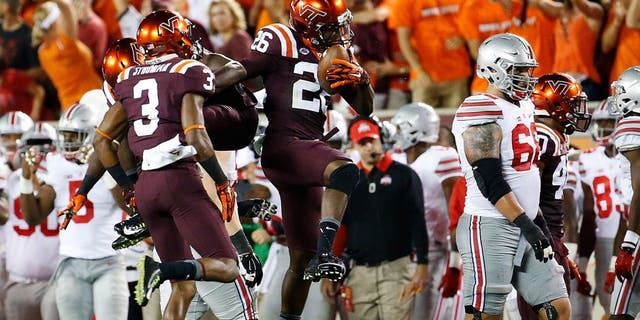 Virginia Tech's defense seemed overmatched, a maroon-clad speed bump on the way to No 1 Ohio State instilling its will in a dominant season-opening smackdown.
Through two Buckeyes' possessions, it was hard to get away from that assessment as Lane Stadium went dead silent.
But a Hokies defense that might wind up being the best in the ACC did little to negate that argument, making life difficult on Ohio State's vaunted attack for much of a 42-24 loss Monday night.
Taking away the middle with that Bear scheme, Ezekiel Elliott was limited to 11 carries. Granted, he finished with 124 yards and a touchdown, but 80 game on his first attempt.
The tactic put the ball in the hand of Jones on the option and he made Virginia Tech pay in averaging 7.6 yards per carry in rushing for 102 yards and a score. But Bud Foster's D still managed to take away the Buckeyes' game-breaker, and kept a potential rout much closer than it probably should have been.
In the days leading up to the the game, Foster told reporters "our plan does not change," regardless of whether it was Jones or Barrett at QB for the Buckeyes. But you have to wonder how much that uncertainty led to Ohio State's early lead.
A year ago, when the Hokies pulled off the upset in Columbus, Barrett ran a season-high 24 times and averaged just 2.9 yards per carry and was forced into mistakes with constant pressure.
The same gameplan with the bigger and heavier passer didn't have the same effectiveness as Jones ran for 26 yards on three rushes in the first possession and added a 14-yarder and a 19-yarder later in the opening half.
Ultimately, Ohio State had too many weapons for the Hokies.
Braxton Miller put on a show in his new role as the H-back with two catches for 78 yards and a 54-yard touchdown and he ran for 62 yard and a TD of 53 yards. Both of those scores came in the third quarter as the Buckeyes turned a 17-14 deficit to an 11-point lead.
If there's one thing the Hokies can rest assured of, they aren't likely to see an offense this dynamic all season.
There is just one remaining game against a currently ranked opponent -- Nov. 12 at No. 16 Georgia Tech -- and outside of the Yellow Jackets, just one team was higher than 44th in total offense in 2014.
But even that opponent, East Carolina -- which was fifth -- managed 28 points against Towson, and Virginia Tech will no longer have to deal with Pitt's James Conner, who is out for the season with a knee injury.
So not only is the road more manageable after facing the nation's top-ranked team, but a Hokies defense that has eight starters back from last year's group, (which was 14th in points allowed at 20.2 per game), has all the makings of putting up even better stats this time around.
Virginia Tech never gave up more than 33 points last season, and the last time it allowed anyone into the 40s came in the 2013 Sun Bowl against UCLA.
The Buckeyes changed all that.
Racking up 544 yards, including 332 on the ground was what No. 1 needed to do to cap a first week in which No. 2 TCU (six-point win over Minnesota), No. 5 Michigan State (beat Western Michigan 37-24) and No. 6 Auburn (31-24 over Louisville) all failed to make opening-game statements.
But when it comes to the Hokies, let's pump the breaks.
Ohio State rolled after a first-half dry spell, and chances are there aren't many defenses that will be able to take Urban Meyer's crew out of its game.
Virginia Tech's D showed it's going to be strong. It just ran up against a team on a totally different level.
Follow Cory McCartney on Twitter @coryjmccartney