Despite Porzingis' big quarter, Knicks lose in Kurt Rambis' debut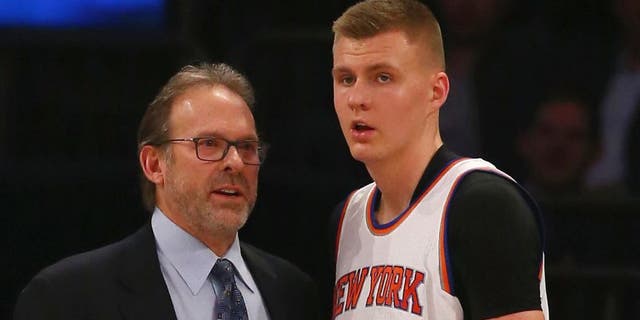 NEW YORK
The Washington Wizards put the New York Knicks in the same kind of hole under Kurt Rambis they kept falling into under Derek Fisher.
John Wall had 28 points and 17 assists, Bradley Beal scored 26, and the Wizards beat New York 111-108 on Tuesday night in the Knicks' first game under Rambis.
Wall made four free throws in the final 6.6 seconds and the Wizards handed the Knicks their sixth straight loss when Langston Galloway's 3-pointer at the buzzer was just short after Washington failed to foul intentionally as planned.
"Nobody's happy. Everybody is kind of depressed that we're losing," Knicks rookie Kristaps Porzingis said. "Now we've lost our coach so there's lots of stuff going on but we try to stay focused. We just have to find a way to get back."
Washington jumped to a 16-point lead in the first quarter, expecting the Knicks to have extra energy under new leadership.
"That's what I was telling somebody earlier, that that's a dangerous team, a team who has a new coach who has a new face so to speak and has a new sense of life," Beal said. "They can either come out and quit or they can come out and really respond and play well and they did that."
But not until they were well behind, just as they did in their final few games under Fisher before Phil Jackson decided to make a change.
"It is starting to become kind of habitual right now starting the games off slow," Carmelo Anthony said. "We can't give teams 30-plus points in the first quarter, then try to fight back. Once you fight back like we did today, it's still an uphill battle that you've got to fight."
Anthony had 33 points and 13 rebounds, but the Knicks have dropped 10 of 11.
Porzingis scored 20 points, but just two after his 14-point third quarter.
Wall made the go-ahead basket midway through the fourth, and later added a pair of jumpers before a 3-pointer that seemed to put it away at 106-96 with about 1:50 left.
The Knicks fired Fisher on Monday and appointed Rambis the interim coach through the remainder of the season. Drafted by the Knicks in the third round in 1980, Rambis said for the second straight day that it's important for the Knicks to get into the playoffs, but that will take a huge turnaround after the All-Star break.
They allowed 63 first-half points, trying their most this season, after Rambis said they had to toughen up their defense.
Porzingis hit a couple of 3-pointers early in the third, but his signature play came much closer to the basket, when he spun baseline around Jared Dudley and threw down a powerful dunk with Marcin Gortat nearby. That put a buzz in the building as only the rookie can and it stayed there as the Knicks caught up at 83-all to end the period.
"First half we played aggressive and we were into the ball, we took their flow away," Wall said. "Second half, start of the third quarter, we didn't take their flow away."
But Porzingis was on the bench to start the fourth and the Wizards had just gone ahead for good before he returned.
TIP-INS
Wizards: Washington has won five straight at Madison Square Garden. ... Guard Gary Neal missed the game with a sore right leg.
Knicks: Jackson, during an interview with MSG Network, said the chances of a trade before next week's deadline were "very slim" but that they would be looking. ... Reserve forward Lance Thomas returned after missing two games because of a concussion.
ANTHONY'S OUTLOOK
Anthony is playing for his fourth coach since arriving in New York in 2011 but said he continues to trust Jackson and wants to remain with the Knicks.
ALBERT'S ANALYSIS
TNT broadcaster Marv Albert, a former Knicks broadcaster, said he felt the team became "overhyped" after a successful start and that beyond Anthony and Porzingis is a bunch of "guys who really are backups." He also saw a change in Fisher from the way he interacted with the media as a player. "You could feel there was so much pressure on him and I don't know if he was the same way with the players, but just (a) different guy," Albert said.
UP NEXT
Wizards: Visit Milwaukee on Thursday.
Knicks: Visit Brooklyn on Feb. 19.