Despite losses, Habs having trouble finding fault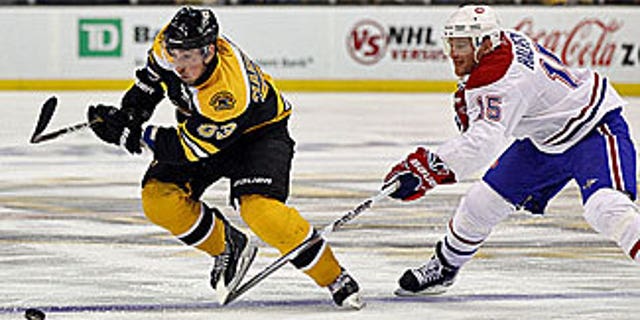 ROSSARD, Que. -- As they sit on the brink of elimination at the hands of the archrival Boston Bruins, the Montreal Canadiens find themselves in a very awkward position.
They've lost their last three games by a grand total of four goals, one of them going into an empty net at the end of Game 3, and the last two of those losses have come in overtime.
In such a situation, how do the Canadiens make sweeping changes to their game plan? How do they justify radical personnel changes?
But at the same time, if Game 6 repeats the pattern that unfolded in the three previous ones, the Canadiens' season will be over Tuesday night.
It's a quandary for Canadiens coach Jacques Martin, and one he is trying to tackle -- in private.
"The goals for and goals against are 12-12, it's been an evenly-matched series," Martin said Monday after the Canadiens held a full practice they hope won't be their final one of the season. "You just have to be prepared to go at it. We've brought the adjustments that we wanted to and we'll go into the game with our game plan."
His players, meanwhile, dealt with the Canadiens' 2-1 double overtime loss in Game 5 in different ways.
Captain Brian Gionta, who was absolutely robbed by Tim Thomas with a post-to-post save off a one-timer from the slot shortly before Nathan Horton's goal won it for Boston, said he didn't waste much time dwelling on the chance he missed.
"Even after seeing it I would do the same thing," Gionta said. "I got good wood on it and he made a good save."
The other extreme would be Mathieu Darche, who had a great chance from the slot in the first minute of the second overtime but was also foiled by Thomas. Darche said he played it over "about 150 times in my head" and the first thing he did when he got back home from the airport Saturday night was head straight for his computer so he could watch it again.
"That night it took me half an hour or 45 minutes to fall asleep, and that's after we got home at three in the morning," Darche said. "I had to look at it again. I'm always like that."
The Canadiens held a team meeting Sunday before hitting the ice for Monday's practice, and the main purpose of that get-together was to make sure the players were focused on Game 6 rather than dwelling on their misfortune in Game 5.
It appears to have worked, as most of the players were expressing confidence in the way they've played, and excitement at the opportunity they are presented with to play in front of their home fans with a chance to force a Game 7 in Boston on Wednesday.
"We're in a great position, we've got a chance at home," center Scott Gomez said. "We all know how great a place this is and we've got to take advantage of it. We've got to take advantage of the crowd. When you lose two overtime games in a row, there's not a whole lot you can change. We've got guys who have gone through it. If anything, everyone's excited. Playing Game 6 against the Bruins at home, what more could you ask for?"
While the Canadiens may not want to tinker too much, some changes will be forced on them for Game 6. Forward David Desharnais reportedly suffered a sprained knee in the first overtime in Boston on Saturday after serving as a sparkplug on the line completed by Gomez and Gionta. He was not at practice Monday and was replaced on that line by Travis Moen.
Defenseman James Wisniewski missed most of the third period of Game 5, returned midway through the first overtime and finished the game. He, too, was not at Monday's practice and was replaced on the point of the Canadiens' first power-play unit by Yannick Weber, who may dress as a forward in the spot freed by the injury to Desharnais but act as a defenseman on the power play.
"I did have my 40 (regular season) games on defense, and in the playoffs we were short up front and they used me there and I felt comfortable," said Weber, who dressed as a forward in Game 2. "Whatever the call is going to be, whether it's up front or on defense, I'll be ready.''
One of the adjustments Martin was referring to was visible in the power-play units used at practice Monday. Along with Weber and P.K. Subban on the points, Martin put Gionta with Tomas Plekanec and Michael Cammalleri up front on the first unit. That's a change in philosophy as it loads up one unit, leaving Gomez, Darche and Andrei Kostitsyn on the second unit with Roman Hamrlik and Jaroslav Spacek on the back end.
The power play was an area where Montreal had the clear advantage coming into the series, but the Canadiens have generated just two goals on 16 chances through five games. That 12.5 percent efficiency is far below the 19.7 percent that placed the Canadiens' power play seventh in the League in the regular season.
"That's an area where we can be better," Martin said.
But in the grand scheme of things, the Canadiens are having a hard time identifying other areas where they have a lot of room for improvement.
Goaltender Carey Price has lost his last seven home playoff games, but with a .938 save percentage in the series he can hardly be faulted for anything.
Montreal's play at 5-on-5 was probably its biggest weakness coming in against Boston, except a 12-10 deficit in that area has to be considered a victory for the Canadiens considering the Bruins were the best in the League in this category in the regular season.
The Canadiens are very tempted to simply stay the course, and it is hard to blame them.
"We always talk about the process, and the process is there," Darche said. "We're getting scoring chances, we gave up a lot of goals in Game 4 but aside from that they haven't scored too many. We're playing well. They had two of their skaters make saves on us (Saturday). We're right there, now's not the time to change everything."
But there is one thing the Canadiens desperately need to change Tuesday night, and that's the result. Otherwise, they may very well be spending their whole summer thinking about what they could have done differently.