Despite longevity, the No. 30 has 1 win in more than a thousand starts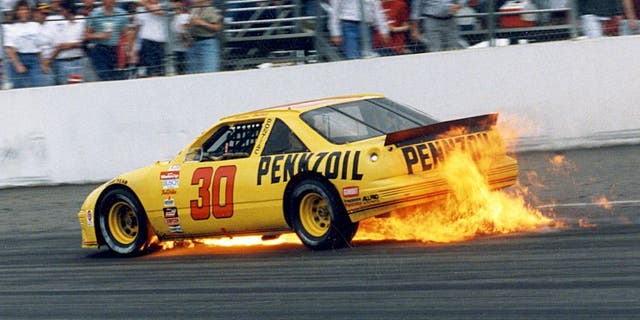 NEWYou can now listen to Fox News articles!
Despite a lengthy history in the sport of NASCAR that goes all the way back to 1950, the No. 30 has struggled to find Victory Lane.
Interestingly, the only driver to ever win with the number -- Speedy Thompson -- raced it just twice.
His victory -- at Martinsville Speedway on Oct. 16, 1955 -- came in a Carl Kiekhaefer-owned Chrysler that started 17th and led 64 of 200 laps.
The driver with by far the most starts in the No. 30 was none other than FOX Sports' own Michael Waltrip, who competed with the number in 265 races from 1987-1995.
Although Waltrip never drove the No. 30 to Victory Lane, he earned 56 top-10 finishes, including 15 top fives, along with a pair of poles.
The No. 30 was used just twice in the 2015 Sprint Cup Series season -- once by Jeff Green and once by Ron Hornaday -- and hasn't been utilized by the same driver for a full season in NASCAR's top division since Green ran the full 36-race schedule in 2002.
The No. 30 car by the numbers
Races: 1,031
Wins: 1
Wins by driver: Speedy Thompson, 1
Top fives: 44
Top 10s: 188
Poles: 8
Average finish: 21.39
Average start: 21.9
All statistics provided by driveraverages.com