Despite incident, Browns impressed by Johnny Manziel's maturity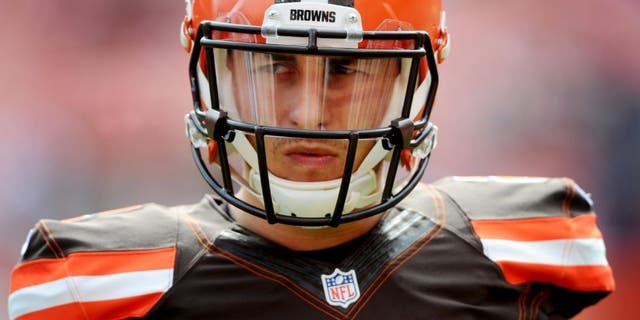 NEWYou can now listen to Fox News articles!
Browns quarterback Johnny Manziel is active for Sunday's game despite being involved in a domestic incident this past week.
FOX Sports NFL insider Jay Glazer said the Browns have noticed a change in Manziel from a year ago.
Glazer reported that the change in Manziel when it comes to football has been stark: "When he's inside our building, he's an A-plus (player). Last year, he was a D-minus."
Manziel will back up starter Josh McCown as the Browns host the unbeaten Denver Broncos.
Manziel acknowledged to police that he drank alcohol on Monday before the former Heisman Trophy winner and his girlfriend, Colleen Crowley, were questioned after they were involved in a heated argument on the highway. According to a police report, Manziel was driving at a high rate of speed and passed cars on the shoulder before police were called.
Manziel was not arrested.
The Browns released a statement Friday saying they had spoken to Manziel about his behavior. However, the team did not exclude him from Sunday's game.
The incident raised concerns about Manziel, who spent 70 days in a rehab facility during the offseason for an unspecified condition.-- With AP