Desmond homers twice; Rockies rout Padres 11-3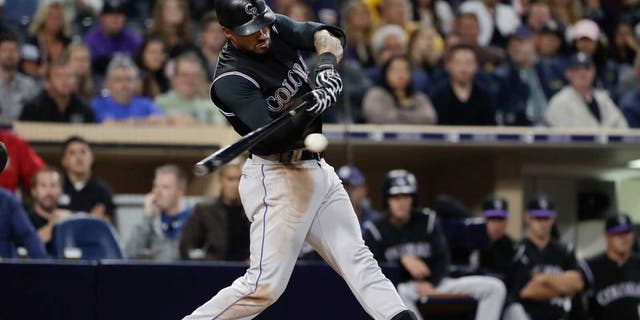 SAN DIEGO (AP) -- Ian Desmond felt he had some catching up to do with his new Colorado Rockies teammates.
Desmond hit two home runs off Jered Weaver and drove in three runs to help rookie right-hander Antonio Senzatela and the Rockies beat the sloppy San Diego Padres 11-3 on Wednesday.
Desmond, who joined the Rockies as a free agent and missed the first 25 games after breaking his left hand during spring training, had no homers coming into the night. He was activated on Sunday. This was his third game.
"I'm just trying to join the club, man," he said. "These guys hit here. You don't want to be the outlier. This is a really good offense. I believe in myself, I believe in what I do, I believe in the process. When I'm out there I'm trying to compete with everything I've got. To expect two home runs, maybe not. But to expect a good, competitive performance, yeah I expect that every single night."
Manager Bud Black said Desmond didn't want to go on a rehab assignment.
"He said, `Buddy, why would you want me to play in a minor league game when I can play in a big league game?'" Black said. "And it made sense, right?"
Desmond capped Colorado's four-run first with a two-run shot, and went deep again on Weaver's first pitch of the fifth. He also singled in the third.
The Rockies took a 10-1 in the top of the fifth, when the Padres committed their third error of the game.
Desmond had been 1 for 9 lifetime against Weaver.
"It's just one of those games you wish you could start the thing over and unfortunately you can't do that," Weaver said. "They were able to get a couple early. I kind of fell apart there in the fifth. It was just a battle all game, a struggle. The location wasn't very good again and those guys made me pay."
Weaver allowed two home runs at Colorado on April 11, getting a no-decision in the Padres' 3-2 loss to Senzatela.
"I think the guys, after facing him in Denver, we had a pretty good idea what to expect," Black said. "So that was a big thing for the guys to have some point of reference point with Weave. He got some balls up right off the bat. … We waited for Weave to get some balls up and we took some good swings. I think what did us right was the previous start against him, where we knew his velocities, we knew his release point, we knew his stride direction.
"Anytime you face a pitcher for the first time, the advantage goes to the pitcher. He handcuffed us, even though we beat him. We hit a couple of long balls but he went six and only gave up the two runs."
Senzatela (4-1) held San Diego to three runs, two earned, and six hits in six innings. He also got his first big league hit, an infield single to shortstop in the second.
Earlier Wednesday, Senzatela was named the NL Rookie of the Month for April after going 3-1 with a 2.81 ERA.
Weaver, 34, who signed a $3 million free-agent contract on Feb. 19, has allowed 12 homers in six starts. His fastball tops out at about 85 mph.
Weaver (0-3) allowed 10 runs, five earned, and 10 hits in four-plus innings.
The Rockies jumped on Weaver for four runs in the first. Charlie Blackmon hit a leadoff double and scored on DJ LeMahieu's single. Nolan Arenado followed with an RBI double and was aboard for Desmond's one-out homer.
The Rockies scored three unearned runs in the fourth, when the Padres committed two errors on one play, and added three more runs in the fifth, two of them unearned.
San Diego's Erick Aybar homered in the fifth, his third.
QUOTABLE
Desmond is impressed with Senzatela, who comes from Valencia, Venezuela, the same hometown of Felix Hernandez of the Seattle Mariners.
"I'm calling him the Little Prince from here on out. He comes from the same town as King Felix. I think he's the next king in waiting," Desmond said. "He's really good. He's really composed out there. He works quick, doesn't shake off. He really believes in himself. It's really fun to be out there behind him and watch him. It's amazing that he's 22 years old."
TRAINER'S ROOM
Rockies: C Tony Wolters was placed on the seven-day concussion disabled list. He was hurt in the seventh inning Tuesday night when he got hit in the helmet by Hector Sanchez's backswing. He departed a few pitches later.
UP NEXT
Rockies: Rookie LHP Kyle Freeland (3-1, 2.93 ERA) looks to avenge a 6-0 loss to the Padres on April 12 when he starts the series finale Thursday afternoon.
Padres: RHP Luis Perdomo (0-0, 4.96 ERA) is scheduled to make his fourth start, third at home.
-- --
More AP baseball: https://apnews.com/tag/MLBbaseball