Designated Players vs. Homegrown Players, the true MLS rivalry: Who wins?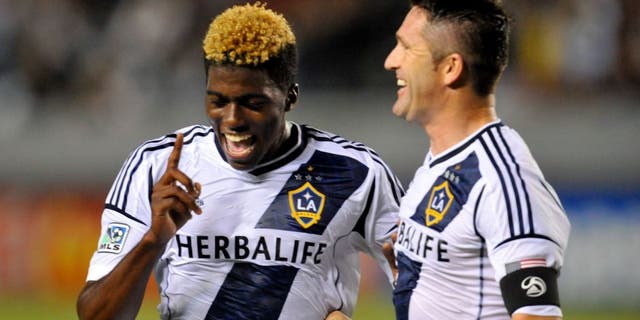 MLS has its rivalries. There's the Portland Timbers and the Seattle Sounders. And the New York Derby. Even the California Clasico. But they all pale in comparison to the league's ultimate rivalry: Designated Players vs. Homegrown Players.
The league loves its Designated Players. After all, it allowed them to throw David Beckham on billboards, bring Thierry Henry to MLS and, now, feature the likes of Sebastian Giovinco, Giovani dos Santos, Clint Dempsey, Michael Bradley and Robbie Keane.
The rule started with just one Designated Player per team (unless you were the Galaxy), then there was two and, finally, three. Who knows how many we might have in the future. Singing "We all dream of a team of Designated Players" is fun.
Homegrown Players are cool too, though. They fit better in the soccer world and allow clubs to throw out words like "authentic" and "community," words that would the linchpin of Silicon Valley if it was about American soccer instead of tech startups.
So who wins: Designated Players or Homegrown Players?
Designated Players
Are you going to bet against Giovinco? Or Keane? Or Bradley? Or Frank Lampa... OK, bad choice. But are you going to bet against the rest of them?
If they're not scoring goals, they're setting them up. And while they do both, they're filling the stadium.
Designated Players do everything MLS needs. They get you the highlights, draw the crowds that make for the atmosphere and pay for themselves with all those butts in seats. They do it all.
It's worth remembering that while MLS was definitely making some progress in the mid 2000's, the turning point for the league was the signing of Beckham and that there's a reason the original Designated Player rule was called the Beckham rule.
And the old narrative that it's more important to build a team than to lure stars, as evidenced by Houston Dynamo, Columbus Crew, Real Salt Lake and Colorado Rapids winning titles from 2007 to 2010? It's worth noting that since, every title winner since has had a Designated Player. And now? All 20 teams have Designated Players, with 17 of them having at least two.
Unless every MLS team is wrong, it looks like Designated Players win the day.
Homegrown Players
Designated Players sure are great. But you know what else they are? Expensive.
MLS is a league that has made its way by keeping costs down. That's how they survive, and Designated Players fly in the face of that. They're big bets on individual players. Remember Denilson? And Mista? Those were killers, even if they didn't spend a full season with their teams. Then there was Julian De Guzman, Claudio Reyna and Marcelo Gallardo, all of whom were expensive, ineffective and ate up cash for at least a year.
Meanwhile, investing in the academy and Homegrown Players isn't a bet on a single player. It's a bet on dozens of players and you only need a handful to make it. That's just good math. It's sustainable.
Homegrown Players are how teams landed Jordan Morris, Gyasi Zardes, Wil Trapp, Bill Hamid, Diego Fagundez. And how D.C. United were able to sign Andy Najar then sell him to Anderlecht for a nice profit.
Just take a look at FC Dallas, who don't pay a single player seven figures, but are one of the best teams in MLS. That's the benefit of having one of the best academies in the league and seven Homegrown Players, most in MLS.
This academy and Homegrown Players thing, it works. And it works cheap. And it works without having to put all your eggs in a single basket.
Winner
It's a draw. Americans love draws.
But really, it's both.
MORE FROM FOX SOCCER