Derwin James return to field buoys Florida States bounce-back hopes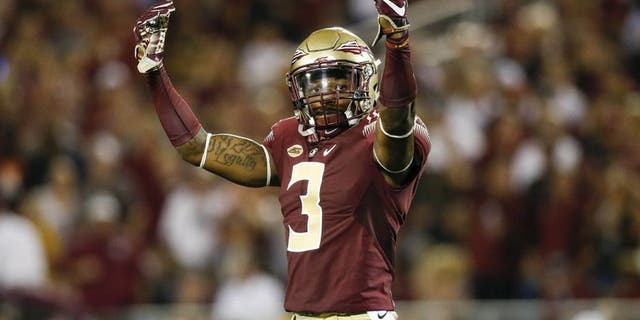 CHARLOTTE Afterthe MRI results were in, Jimbo FisherofferedDerwin James, his sophomoresafety and one of the most physically giftedplayers he'd ever recruited, some advice: "Don't waste this opportunity."
The safety-linebacker hybrid equally capable of changing a game in the defensive backfield, rushing the quarterback or stopping the runsuffered a lateral meniscus tear in the knee in the second game of Florida State's 2016 season after his knee buckled against Charleston Southern an injury that required surgery and prevented the former stud recruit from playing again in his sophomore season. Sitting in the room with Jimbo Fisher and the schools medical staff when he heard the news, as shown on Showtimes documentary of the teams season, James stared intently at the ground, quiet.
"The physical part was easy because my trainers, they kept me in shape. Even when I was hurt they kept me in shape," James said. "The hardest part was just getting my mind back right."
Florida State wore itspersonnel loss publicly. The injury alteredthe complexion of the defenses season. In the Seminoles three losses in 2016, the defense gave up 137 points to Louisville, North Carolina and Clemson. It was the second time this decade that a Seminoles defense finished outside the top-20 in scoring despite the presence of eventual draft picks DeMarcus Walker and Marquez White. By the time Clemson stormed into Tallahassee to all but cement their ACC title defense, the Seminoles were 5-3 and missing James' innate ability toforce opposing coordinators to account for his presence on every snap.
Derwin James will eventually join his predecessors in the pro ranks, but for now hes readying himself to back up the (understandable) best player in the country hype. At ACC Media Days, he did not shy away from the lofty praise.
The natural follow-up question, and one that was asked often here in Charlotte on Thursday: Can he break the Heisman drought for defensive players?
More than capable, James said.
Fisher expanded upon the idea: "That dynamic is, I think,comingaround a little bit. I think we're appreciating that we're supposed to be rooting for the best player, you know what I mean, not always an offensive player. … We've got such a space game on offense that when you find those (defensive) guys that can play in space and still be physical, they shine.
"They even stand out more now than theyever did."
Welcome to the reemergence of Derwin James.
If this line ofpreseason conversation appears to venture into hyperbole for a player who logged 11 tackles and oneinterception last season, keep in mind: This is a 6-foot-3, 220-pound defensive back who registered 9.5 tackles for loss and 4.5 sacks while starting on a top-10 defense nationally as a true freshman. The countrys fourth-ranked recruit coming out of Haines City Senior High in Auburndale, Fla., NFL evaluators are already drooling, projecting him as one of the first defensive players off the board should he choose to leave Florida State early. And that comes after a season-ending knee injury.
In this case, the hype may not supersede theexpectation.
Youre talking about a guy who had a tremendous freshman year, expectations. Tremendous athlete, can play three, four, five different positions," Fisher said. "Great intelligence level. Thats the thing about him: Hes a tremendous competitor but hes also very intelligent. And I think thats one of the things we dont talk about with players; all your really great players usually have very high IQs, very intelligent guys that can process the game, process whats going on and learn different positions.
"To play the multitude of positions he plays, you cant do it and not be a smart guy.
James listened to Fisher's advice. In his time away from the field, James treated his rehabilitation as a three-month study session, actingas a de facto coach on the sidelines. Thathelped him see the game through a different prism, see the action unfold from the outside looking in for the first time in his life.
Now, he says he's back up to speed and the game has slowed down.
"Basically when the coach is getting on you it's because of a reason," James said of what he learned from the sidelines. "It's because of something that you see, that they see, and like I say, I didn't get that at first coming in, but now I understand why the coaches are on me so hard."
James is a unique talent, and the Seminoles will need him to return to wreaking havoc on opposing offenses if they are going to reclaim the Atlantic Coast Conferences top spot.
With the ever-explosive Clemson Tigers, the defending national champs, and Louisville, boasting a high-octane offense led by reigning Heisman Trophy winner Lamar Jackson, on the divisional slate, plus college footballs preeminent dynasty (Alabama) and in-state rivals Florida and Miami on the calendar, James & Co. will not be allowed to coast into the season.
The good news: He is not alone.
Fishers staff recruits like a top-five program year after year, so despite the loss of the defenses leader in Walker, the pipeline keeps the roster well-stocked.
The defense alone will feature former five-star recruits in Matthew Thomas, Josh Sweat, Tarvarus McFadden and an overload of former high-school stars. Its a veteran-laden unit with Thomas, Sweat and nose tackle Derrick Nnadi each returning after exceeding 10 tackles for loss in 2016. Throw in James with the likes of linebacker Brian Burns, building off his own breakout freshman season, and the group is poised to build off its five-game winning streak to end the season, one that included victories over No. 15 Florida and No. 6 Michigan. As quarterback Deondre Francois said, We just grew up as a team.
Thetalent level, depth and gradual progression from a host of young players forced into actionsets the stage for another possible College Football Playoff run for Fisher's group and informsJames' perspective on the preseason accolades, including that iconic award handed out at season's end.
It dont win the championship. Just because you win the Heisman doesnt mean you win the championship, James said. I want to win the championship.