Derek Jeter's final game at Yankee Stadium begins despite rain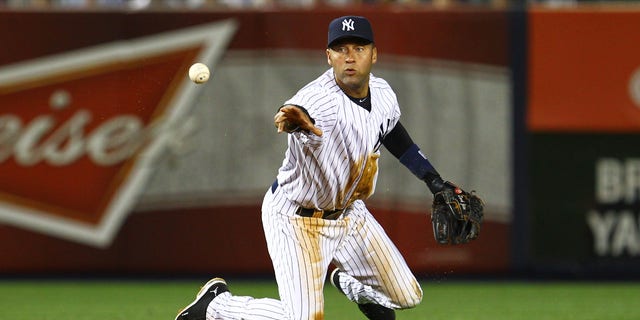 Derek Jeter's final game at Yankee Stadium began on time Thursday, after rain in the area jeopardized whether the Yankee legend would be able to play one last time before his home fans.
In his first at-bat in the first inning, the Yankee shortstop doubled in a run.
Fans have stood with each and every of the Yankee captain's at-bats recently, taking pictures and videos with their phones and cameras while chanting "Der-ek Je-ter!" and lauding him with sustained ovations. Middle-aged men have held up homemade signs like little kids praising the 14-time All-Star who helped bring five World Series championships to New York following the organization's 17-year drought. Even former teammates and star players have made the trip to see him one more time.
Tickets on the secondary market for home game number 1,391 in Jeter's 20-season career ranged from $248 in the bleachers to up to $10,000 in section 19, right next to the Yankees dugout.
"I'm sure it will be pretty emotional," teammate Brett Gardner said before the game. "It will be pretty special."
The retiring 40-year from Kalamazoo, Michigan, has resisted acknowledging the curtain calls because he didn't want to disrupt his teammates while the Yankees were clinging to the slim possibility of postseason play. But even for the player who is always so cool under pressure, so focused on the task at hand, he heard the calls.
"I'm aware of it. You can't help but notice," Jeter said. "I catch myself looking around sometimes and I've always tried not to do that, but I've caught myself a couple of times, so I'm aware."
And now, after a 9-5 loss to the Baltimore Orioles on Wednesday, there's nothing to play for but the goodbyes.
Being eliminated from postseason contention gives manager Joe Girardi the luxury of orchestrating Jeter's exit much the way he planned a special moment for Mariano Rivera's departure last season.
In the closer's final home game, Girardi, a former teammate of both stars, sent Jeter and Andy Pettitte to the mound to make the pitching change. Rivera cried on Pettitte's shoulder and Jeter told him "It's time to go."
"The idea for Mo came to me a half-inning before I did it," Girardi said. "So I'll probably do this the same way."
The Yankees still have three more games to play in Boston, and whether Jeter dons New York's road grays will be up to him. Girardi said he hopes to get a few minutes before the game Thursday to ask the last player to wear a single-digit number for the club what he would like to do.
"You've got to respect the fact that we just lost," Jeter said when asked of his plans Wednesday. "I can't tell you about Boston."
His teammates expect him to play. It's Jeter's way, many of them insisted, and perhaps it will be a little easier for him after all the hoopla of the final home game. Whether he'd prefer to admit it or not, the finality of it all has been weighing on him.
"I tried to put it out of my mind but it's getting more and more difficult to do that," Jeter said.
The Associated Press contributed to this report.