Derek Jeter Breaks Ankle During Yankees Extra Innings Loss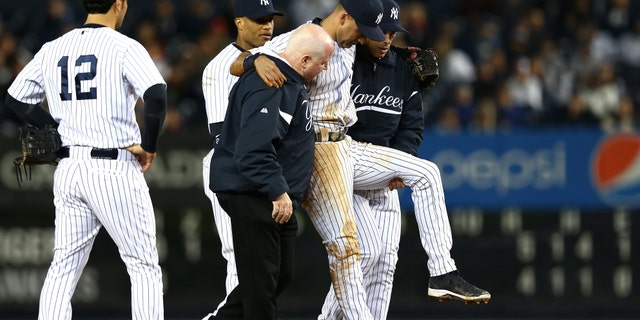 New York – It was a game that went from an unlikely comeback to an unimaginable outcome.
Fans watching the 12th inning of the AL championship series opener Saturday night looked on in disbelief as the New York Yankees' team captain Derek Jeter was helped off the field, his left leg dangling.
Their worst fears where confirmed when the announcement was made that the All-star shortstop had broken his left ankle and would be out for the rest of the postseason.
"It's kind of crushing," outfielder Nick Swisher said.
Three innings after Raul Ibanez sent the 47,122 in Yankee Stadium into a frenzy with a tying two-run homer, the New York shortstop silenced the crowd when he went down and didn't get up after making a tumbling stop on Jhonny Peralta's grounder.
That feel-good moment was gone in a flash.
Jeter took four steps to his left for the sharp grounder, landing hard on his left foot, falling and wincing in pain as he flipped the ball toward second base. He then rolled onto his stomach, and a collective gasp was heard when the player who symbolizes championship baseball didn't get up.
Jeter remained on his side, rolling slightly, as trainer Steve Donahue and manager Joe Girardi checked him out. He was helped up, and he put an arm around Girardi and Donahue. They coaxed him off the field, with Jeter not moving his left leg as chants of "Derek Jeter!" rang out.
"You can see the disappointment in his face," Girardi said after the 6-4 loss.
I can't tell you how much I appreciate his toughness and his grit...It's, to me, a great example for everyone.
A teammate on three World Series championship teams, Girardi wanted to carry Jeter off the field but he would have none of it — not the player who has always been reluctant to sit and prides himself on playing through pain.
"He said, 'No, do not carry me.' That is the kind of guy he is," Girardi said.
Girardi said the injury won't jeopardize Jeter's career. But the recovery will be about three months.
Now if the Yankees are going to go deep in the postseason, they'll have to do it without the five-time World Series champion for the first time in 16 years.
Tigers outfielder Delmon Young found it difficult to watch one the game's greats leaving the field in the manner Jeter did.
"He is an idol for many baseball players," Young said.
Jeter has been a constant in the Yankees' lineup since he was Rookie of the Year in 1996. In fact, the 2000 World Series MVP has played in all 157 of New York's postseason games since then.
That's over now.
"I can't tell you how much I appreciate his toughness and his grit," Girardi said. "It's, to me, a great example for everyone. And I am not just talking about athletes, I am just talking about everyone that goes through struggles in life or goes through pain in life."
Already missing career saves leader Mariano Rivera from those five championship teams since early May because he tore a ligament in his knee shagging flyballs, the Yankees will activate Eduardo Nunez before Game 2 of the series Sunday. Jayson Nix is expected to start at shortstop.
"It's a tough loss, but it's not going to be something that we're going to, you know, let it derail us," general manager Brian Cashman said. "But it's tough to lose, obviously, any important player, and Derek's obviously been as important as anybody. But now he's been taken out, so Nix has got to go in there and we've got a lot of confidence in Nix."
Jeter was the designated hitter in Game 4 of the AL division series after fouling a ball off the same foot the previous night and had to come out after the eighth inning. It was the first time he didn't start a playoff game at shortstop, as Nix got the nod in his place.
"I saw him flip the ball to Robbie (Cano), and you figure he's going to get back up," Swisher said. "When he didn't was when I knew something was wrong and you know he wanted to get up and get off the field as quickly as he possibly could."
Written off as an aging star after slumping in 2010, Jeter struggled to adapt to a no-stride swing in '11 before going on the disabled list for only the fifth time in his 17 full seasons in the big leagues with a calf injury. He returned revitalized, getting his 3,000th hit and finishing strong.
This year, Jeter had a remarkable season for a 38-year-old, batting .316 with a league-leading 216 hits. He carried that over to the postseason, hitting .364 against the Orioles.
Earlier Saturday, Jeter became the first player in baseball history to reach 200 hits in the postseason with a single in the second off Doug Fister. He was left stranded, though, a common problem for the Yankees these playoffs.
With Alex Rodriguez benched, and Robinson Cano, Curtis Granderson and Swisher in playoff funks, Jeter was one of the few constants — getting help from late-game guru Ibanez — in the Yankees' lineup.
"You've got to come back," Ibanez said. "He's obviously a great player and a huge part of the team and a captain. But, at the same time, you try to move forward, fight and come back, and the guys will have to step up."
Based on reporting by the Associated Press.
Follow us on twitter.com/foxnewslatino
Like us at facebook.com/foxnewslatino