Derek Brunson tears through Sam Alvey to get third straight win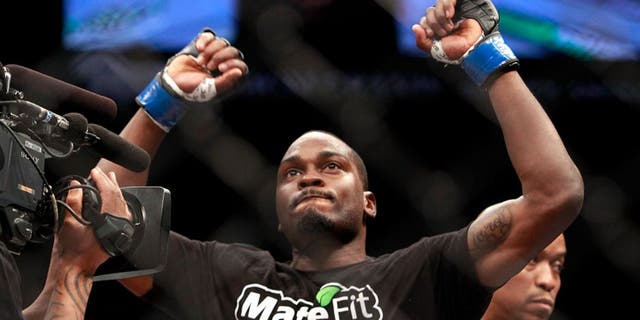 Derek Brunson picked up his third win in a row with a blistering performance, stopping Sam Alvey with strikes early in the first round of their UFC Fight Night bout in Nashville on Saturday night.
The middleweight matchup pit two streaking fighters against one another, and it was clear from the offset that Brunson and Alvey were determined to throw hands until one of them fell over.
Brunson pressed the action as soon as the referee said "go" as he rushed across the Octagon and forced the clinch with Alvey against the cage and started unloading huge punches over his opponent's guard.
Alvey continuously looked to grab the Muay Thai clinch behind Brunson's head, but time and time again the former Strikeforce fighter just blasted over the top with hard, heavy punches.
After a couple of exchanges, Brunson started to land repeated shots through Alvey's defense and as the Team Quest fighter started to bob and weave away from the cage, it was obvious he was rattled.
Brunson opened up another barrage, and Alvey fell to the mat where the former college wrestler followed and started to unload shots to the head. Alvey was covered up, but referee Mario Yamasaki saw enough and decided to stop the fight.
Alvey popped right back up to his feet, contesting the stoppage, but it was clear he was hurt during the initial exchange before Brunson poured it on with punches until getting the finish.
"I didn't stop the fight. If it didn't stop I was going to keep punching," Brunson said after the win.
Brunson now moves to an impressive 5-1 in the UFC with his lone loss coming to top-five ranked fighter Yoel Romero in a fight he was winning through the first two rounds until the Cuban mounted a furious comeback. Brunson has already cracked the top 15 and with this latest win, he could be sniffing top-10 competition any day.