Derek Brunson 'still sour' over Anderson Silva loss but ready to take it out on Dan Kelly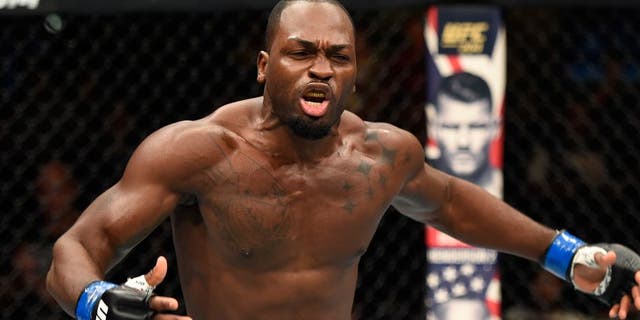 NEWYou can now listen to Fox News articles!
It's never easy to get past a loss much less one that should have been a win.
That's exactly how Derek Brunson felt after dropping a very close decision to former middleweight champion Anderson Silva at UFC 208 in a fight where he absolutely believed he should have walked out with a victory.
There's now easy remedy to cure the sting of a bad defeat, but in Brunson's case he wasn't upset that he got hit with a punch and rattled or caught with a submission and finished. Instead, Brunson just couldn't understand how the three judges sitting cage side that night in Brooklyn watched 15 minutes of fighting and somehow decided to give Silva the win.
When Brunson says his next fight is an important one, he's referencing his matchup against former Olympian Dan Kelly, who he faces this Saturday night in New Zealand. Now victory is always paramount in every fight, but Brunson can't help but look at his record and see two straight losses staring back at him no matter how much he hates that one of those should have been a win.
That's why Brunson has put everything into his most recent training camp to not only ensure he gets back on track but to leave no doubt when he's done with Kelly who is the winner in their fight.
"You know the fight game so the pressure's there so I've been doing a good job this camp. A lot of training, a lot of running, just taking it to another level. I know, every fighter knows, you've got to pile up wins in a row. You can't lose two in a row, three in a row and then you hear mentions of losing your job. That's the only discouraging part about it but I don't dwell on it too much" Brunson said.
Kelly is an interesting matchup because the 39-year old Australian is now ranked in the top 15 at middleweight, but that accomplishment comes after he's been rated as the underdog in every, single one of his recent fights.
Despite the odds makers consistently picking against him, Kelly continues to surprise everybody with win after win including a victory over former UFC champion Rashad Evans in his most recent performance.
Brunson is well aware that Kelly seems to surprise everybody he faces by not exactly looking the part of a fighter but then finding a way to stick around for all three rounds until he's pulled off yet another victory.
Brunson respects Kelly for what he's done thus far in the UFC, but he promises there will be nothing thrown at him on Saturday night that he didn't see coming. Brunson has seen too many other fighters underestimate Kelly and that's the one thing he absolutely refuses to do.
"I'm not going to be lured to sleep by the antics or that he's the underdog," Brunson explained. "I'm going out there as I do in every fight to put guys away but I'm going to do it in a smart fashion."
Zuffa LLC via Getty Images/Josh Hedges/Zuffa LLC
As far as his approach, Brunson feels confident that he can beat Kelly anywhere in this fight and that's an open challenge he's hoping the former four-time Olympian will accept. Brunson knows whether he's striking with Kelly or going to the ground, he's going to leave Australia after washing the bad taste of that last defeat from out of his mouth.
"I like my chances," Brunson said. "He's a judo guy, a very polished judo guy. I'm a wrestler, a very polished wrestler and some of my best attributes in wrestling are my scrambling ability and my clinch. That's where he likes to score but I feel like I'm really good there so I definitely feel like I can dictate the pace when it comes to the wrestling and the judo.
"With striking, I obviously have the speed and strength advantage so it's going to be one of those matchups where he looks to come forward, I'm going to be patient and just fight my fight."