Derek Brunson knows the top 10 fighters can't avoid him forever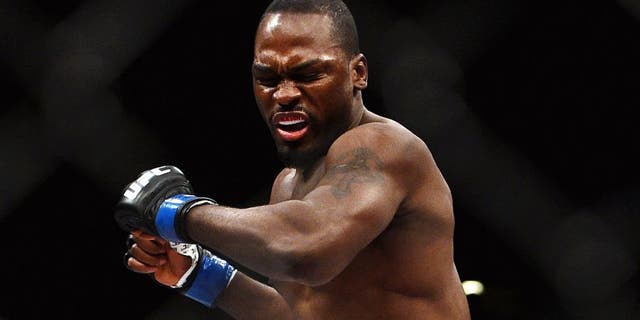 For the better part of the last year, Derek Brunson has been trying desperately to land a fight with a top 10 middleweight to give him the chance to finally move up the rankings.
Despite his pleas for a high profile matchup, he's been passed over time and time again while just itching to work a more active schedule and face some elite fighters at 185 pounds to prove the hype surrounding this middleweight prospect is for real.
As disappointing as it's been to see other fighters land those marquee matchups, Brunson admits he's had to start getting used to it because there don't seem to be a lot of top 10 guys clamoring to fight him.
"It's one of those things I've become accustomed to. I don't think too many guys are raising their hands trying to fight me," Brunson told FOX Sports. "I think for 2016, it's about staying active no matter what. In 2014 and 2015, I fought twice (each year) and I was healthy. That's not enough, that's not cutting it. I've been asking for short notice fights.
"Like for instance the fight with Uriah Hall and Robert Whittaker. I was asking for that fight but I didn't get it."
Most recently, Brunson targeted fights with Michael Bisping and/or Lyoto Machida as potential opponents, but he didn't land either one. Despite his pleas for a ranked middleweight, Brunson finally got tired of waiting and just hoped to get any fight so he could return to action after several months off.
"At that point, I really didn't care," Brunson said. "It was at the point of staying active and getting whoever was available. I was asking for a lot of guys like (Lyoto) Machida, (Michael) Bisping, but they had plans for those guys as far as fights. So nothing else was really available and Roan Carneiro was kind of sitting around."
Carneiro returned to the UFC a year ago after spending several fights with the promotion as a welterweight prior to his release.
In his first fight back while now competing as a middleweight, Carneiro made short work of Mark Munoz in a very impressive outing. Brunson knows that Carneiro can definitely be a dangerous opponent if he allows him to use his best weapon in the Octagon.
Then again, Brunson is also aware that if he fights to the best of his ability, Carneiro won't make it until the final bell.
"Obviously, you've got to go out there and focus on each fight before moving onto the next one. Carneiro, it could be one of the easiest fights I've had or one of the hardest, it just depends on what he presents on the ground," Brunson said. "He's probably one of the better guys in the UFC when it comes to jiu-jitsu. His jiu-jitsu game is definitely there. I'm looking for some premiere matchups after this one."
With a co-main event in Pittsburgh this Sunday night in a fight that airs live on FS1 starting at 9pm ET, Brunson not only wants to win but he wants to send a message to the rest of the middleweight division.
The top 10 fighters can't avoid him forever and Brunson promises that any of them that finally accept his offer will find how he's finished his last two opponents with devastating TKO's.
"Honestly, I think I can finish anybody like that in the UFC," Brunson said. "Now we've got all this enhanced testing, guys are getting popped for trying to be slick and do PED's, (performance enhancing drugs) yeah I'm confident I can put any guy away. It's just a matter of finding an opening and exploiting it.
"I feel I present a bad matchup for everyone in the division. I match up against everybody well. I just have to stay consistent and keep going out there winning fights."