Denny Hamlin's victory adds to prodigious No. 11 all-time win total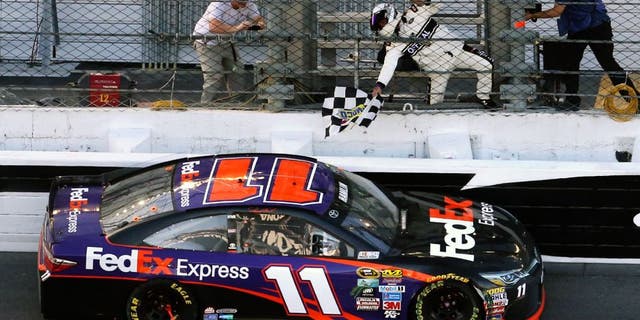 When he won the closest finish in Daytona 500 history, Denny Hamlin added to the prodigious victory totals of the No. 11 in NASCAR Premier Series history.
While Richard Petty has won the most races of any driver in NASCAR history -- 200 -- as car numbers go, the No. 11 has actually won more races than the No. 43 has.
The No. 43 has visited Victory Lane in NASCAR's top division 198 times -- two of Petty's 200 wins came in the No. 42 -- but the No. 11 has won a record 207 races, most of any single number in NASCAR.
And the list of drivers who have won races in the No. 11 reads like a motorsports record book:
- Cale Yarborough, 55 wins
- Ned Jarrett, 49
- Darrell Waltrip, 43
- Denny Hamlin, 27
- Junior Johnson, 11
- Bill Elliott, 6
- Terry Labonte, 4
- Geoffrey Bodine, 4
- Bobby Allison, 3
- Buddy Baker, 2
- Parnelli Jones, 1
- A.J. Foyt, 1
- Mario Andretti, 1
That's seven NASCAR Hall of Fame members, a couple more who likely will get in and three of the best open-wheel racers of all time.
The No. 11 has been on the side of three Daytona 500 winners, Andretti in 1967 and Yarborough in '77 and now Hamlin in '16.
The No. 11 has been represented by 13 different manufacturers, including Studebaker, Hudson and Packard.